Maya Rudolph is Ready for Saturday Night Live: The Next Generation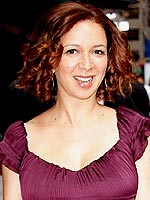 Jeffrey Ufberg/WireImage
If you're waiting for Saturday Night Live: The Next Generation, you aren't alone! Former SNL alum Maya Rudolph is right there with you. Maya's vision of the cast would include her daughter Pearl Bailey, 3 ½, along with the children of her former co-stars Ana Gasteyer (Frances, 7, and Ulysses, 15 months), Tina Fey (Alice Zenobia, 3 ½) and Amy Poehler (Archibald 'Archie' William Emerson, 8 months). "If all those babies got together, that would be a trip. I'm sure Lorne [Michaels] is already all over it. "We're looking at 2012 …"
Maya, 36, credits Ana for starting the baby boom that hit the late-night comedy show after she had her daughter Frances. "She made it look so easy … I thought I was next, and I was, but I wasn't telling anybody in my first trimester." Before Maya could share the news that she was pregnant  with everyone, "Tina came into my dressing room, and she was like, 'I have something to tell you. I'm pregnant.' So weird."
As much as she loved working at SNL, Maya knew that she couldn't juggle the demands of the show and being a new mom.
"If I could work on Saturday Night Live for the rest of my life, I absolutely would. But I was torn between, like, actually being a parent and being able to get up with my child in the morning, and staying up every night until 8 or 10 in the morning … eventually, you know, you have to get some sleep."
As their kids are starting to get older, Maya hopes to have some playdates for Pearl and Alice! The pair "did get together once, but they were so small … They weren't even making eye contact yet, just wriggling around like bald-headed beauties. Now it would be a different world."
Maya is currently pregnant with her second child with director Paul Thomas Anderson, a delivery surprise due in early November.
Source: The Star
— Angela