Caught Caring: Joey McIntyre and Let's Get This Foundation
There is no denying the devotion of the New Kids On The Block fans: with the fan base once made up primarily of screaming teenage girls when the group gained its popularity in the 90s, the groupies have returned — now as adults — to support the fivesome in their successful comeback. As for NKOTB singer Joey McIntyre, not only is he grateful to have such a dedicated following, but he is also counting on them to lend a hand to his new project — Let's Get This Foundation.
Adding an extra splash to their 2009 Full Service Tour, Joey has launched the foundation in an effort to make a difference, one step at a time. "The Let's Get This Foundation is about people coming together to learn how, in even the smallest ways, we can make the world a better place," he writes.
While the goal may seem large and unspecific, the logistics are quite simple. "As we are giving back with different endeavors or 'steps,' we can learn from each other and create a forum for all kinds of 'good works' — wherever the passion lies."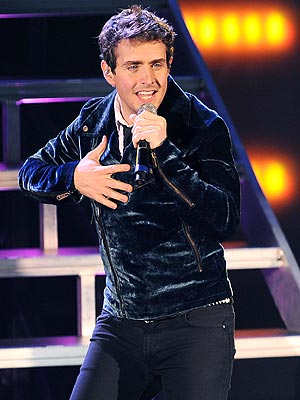 Ramey
For now, that passion lies in Step One: The Summer Book Drive. Urging his fans to forgo the teddy bears, flowers and gifts that are often brought to the arenas, Joey instead suggests that concertgoers purchase one (or more!) new children's book to be dropped off at a designated spot at the venue.
After the books are collected by a group of volunteers —  fans handpicked by Joey himself — they will be donated to a child in need within 24 hours.
"The statistics for age-appropriate reading material in low-income families is alarming. In one study, they found that in middle-income neighborhoods, there are 13 books to every child. In low-income neighborhoods, it's one book to every 300 kids! We can help solve that problem!"
In order to gift even more books to needy families, Let's Get This Foundation has partnered with First Book, an online site that has pledged to sell their children's books for $2. For people who are interested in donating a minimum of $5 — which would yield more than two books — or up to $200, the site allows everyone to get involved.
The donations don't go unnoticed; Joey has promised each fan who donates at least one book an exclusive code to download his new song "5 Brothers and a Million Sisters," a special "autobiographical 'thank-you' to the fans."
Once the book has been dropped off at the concert, each person will receive a special coupon code for the free download. For those who choose to donate via First Book, the offer is still valid, with the code displayed on the confirmation page.
To date, the book drive has certainly proven successful — Joey shared that almost 5,000 books were collected during the first week alone. Taking to his Twitter account to reveal the good news, the singer tweeted that as of Wednesday, July 1st, over 12,000 books had been donated thus far.
"Going for 20 thousand for the tour. I bet we can get 25 K!!! Let's collect this!!!"
Joey is dad to 19-month-old Griffin Thomas — who shares his favorite books here — with wife Barrett.
— Anya