Steal That Style: Ellen Pompeo's Physically Fit Pregnancy
Back in the day, pregnant women were advised to avoid strenuous activity, let alone exercise, but now doctors recommend moderate exercise for most pregnancies.
In addition to 2 ½ hours a week of low-impact aerobic activity like walking, swimming, biking, golf, yoga, etc., simple stretching exercises done throughout the pregnancy keep muscles limber and warm, while Kegel exercises — strengthening the muscles that support the bladder, uterus and bowels — will aid in the birthing process. Once you have delivered the baby, these exercises not only promote the healing of certain tissues, but also allow women to regain control of their bladder. For specific routines, and information on how to stay safe while pregnant and exercising, check out some tips and tricks from Health.com.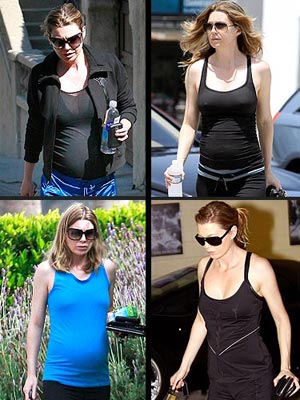 Ramey; Fame; GSI Media ; Flynet
We've seen quite a few celeb mamas continuing their workout routines while looking adorable in both maternity and non-maternity fitness garb.
The day after announcing she was expecting her first child, Grey's Anatomy actress Ellen Pompeo was spotted on her way to the gym.
Since her bump debut, we have seen her — more often that not! — in her workout clothes: in April she followed up her normal gym routine with a treat to the spa, later she opted for a pair of black spandex capris for a trip to the gym, and just last week we caught a glimpse of her growing bump hidden under a blue workout tank top and black spandex while out running errands.
Maintaining a workout regimen can be a challenge in and of itself for an expectant mama, so finding comfortable and breathable active wear should be no sweat!
With more stores offering maternity clothes that are suitable for workout sessions, prenatal yoga classes, or even to just run errands, the future of pregnancy-friendly options looks promising.
Steal That Style: Ellen Pompeo's Physically Fit Pregnancy with the workout combinations below!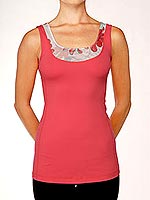 lululemon athletica In Motion Crop

Breaking Bank: A favorite among celebrity moms-to-be, A Pea in the Pod does not disappoint with their maternity active wear line. For a look similar to the Isabella Oliver top Alyson Hannigan sported during her pregnancy, check out A Pea in the Pod Elbow Sleeve Hooded Maternity Tunic ($125), which can be matched with A Pea in the Pod Jersey Knit Maternity Crop Yoga Pants ($75). Made from a combination of cotton, modal, and spandex, the breathable fabric offers easy mobility during those tough months.
While not technically a maternity line, lululemon athletica certainly grabbed Tori Spelling's attention when she was expecting her daughter Stella. The adorable lululemon athletica In Motion Crop ($84) comes complete with a roll down waistband, which can be pulled up over the belly or worn low, making it a great option for both during and after the pregnancy. The capris can be matched with the lululemon athletica Movement Tank ($42), an extra-long tank top made up of flat seams to prevent sensitive pregnancy skin from chafing.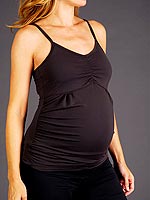 Fit2BMOM Maternity Active Cami Top

Not Pinching Pennies: FIT2BMOM's website is full of reasons to stay fit during pregnancy, and their clothes make expectant mothers want to experience each and every one of them! Their Fit2BMOM Maternity Capri Pant ($65), boasting a roll down waistband to accommodate both over and under the belly preferences, guarantees comfort for yoga routines, hiking trails, or even a lazy day on the couch. The look can be paired with FIT2BMOM Maternity Active Cami Top ($57), a great option for busty pregnant mamas with its 360 degree shelf bra. (Look for our upcoming review of the line.)
Having to purchase a new maternity wardrobe can come with a hefty price, but with Doce Vida I-Back Maternity Top ($48), the possibilities both during and after pregnancy are endless. Made up of mostly nylon, with a bit of spandex, the racerback tops are said to keep moisture off the body and will easily expand along with the belly, but will later return to your pre-pregnancy size as you work off the baby weight. Complete the look with BornFit Maternity Capris ($56), which provide a double thick waistband for women who prefer under the belly support.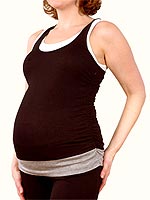 Motherhood Maternity's Jersey Knit Maternity Crop Yoga Pants

Bargain Buying: While soft spandex can be the perfect choice during pregnancy, for women who prefer more room to breath or suffer from itchy skin, Motherhood Maternity's Jersey Knit Maternity Crop Yoga Pants ($20) are a great option. Falling below the knee, the yoga pants are made from a cotton blend and offer a roll waist. To complete the look, try Motherhood Maternity's Sleeveless Scoop Neck Side Ruched Maternity Tank Top ($22), a stylish tank that offers a longer length with its illusion layered look.
It's a complete package! The Buddha Belly Maternity Capri Yoga Set ($50) includes both a tank top and capri-style yoga pants. However, if you shy away from belly rubs, then beware! The tank has an image of a Buddha and the saying, "Rub my belly for good luck." Perfect for a brisk walk, the set is made up of 100% cotton.
We also like Beyond Yoga's capri pants. The sale styles are available for $31-33.
— Anya