Ray Romano Recalls His First-Time Father Fiasco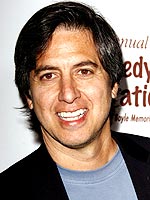 Juan Rico/Fame
When Ray Romano admitted to Matt Lauer during a recent appearance on the Today show that he once suffered from first-time fatherhood jitters, he wasn't kidding! "I got real nervous after the baby was born … I didn't do anything right," he recalls with a laugh. Reminiscing about daughter Alexandra's arrival 19-years ago, the Everybody Loves Raymond actor happily shared his first lesson in parenting. "My daughter was born at St. Vincent's Hospital right here in New York," he says.
"I went to pick them up, my wife and child, and [with my] newborn baby in my arms, [I] go outside [and say], 'Where's my minivan?' I parked in a tow-away zone so we had to go to Queens in a yellow cab. My daughter came home in a yellow cab."
While the 51-year-old was once forced to battle his nerves, four kids later and Ray is ready to dish out advice to future fathers. "My advice is just let the woman tell you where to go and what to do," he suggests. Keeping the conversation light, the comedian also told the morning show's producers that getting "as much sleep and as much sex" before baby arrives is key! "Because that's over [after baby]," he jokes.
That said, Ray and his wife of twenty-two years spent plenty of time together once the actor's show wrapped in 2005 — so much time, in fact, that Anna found herself presenting her husband with several job offers. "She was signing me up for like, Dancing With the Stars. How about Celebrity Rehab? I'm not on anything!" explains Ray.
With much of their childhood spent watching their dad's successful sitcom run, it is no surprise that Ray's children are contemplating a future in the business. "My boys, interesting enough, they want to get into it and they're the shy ones," he reveals. Noting that his "outgoing" daughter "wants nothing to do with showbiz," the proud papa admits she — usually — spends her time dodging the celebrity baby bullet.
"I once asked my daughter … 'Does anybody in your class ever say they watch the show?' And she was like, 'Yeah, and then I never talk to them again.' I'm like, 'Why?' She wants nothing to do with it unless there's Justin Timberlake concert tickets she needs and then it's like, 'Daddy, make a phone call.'"
Ray and Anna are also parents to twins Matthew and Gregory, 16, and Joseph Raymond, 11. His new movie Ice Age 3: Dawn of the Dinosaurs is now in theaters.
Source: Today
— Anya