Unexpected Fatherhood Changed Greg Vaughan's Life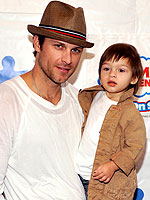 John M. Heller/Getty
Fatherhood found actor Greg Vaughan when he least expected it! He and wife Touriya weren't trying for a baby, but soon after their marriage found out that they were expecting. "Shocking is a good word for it," laughs Greg. Chatting on the phone with a friend who had just become a father, the General Hospital star noticed Touriya was beginning to cry in the kitchen. "I looked at her and I asked, 'Honey, are you okay?' And she's like, 'We're pregnant.'"
Greg was so taken back by his wife's confession that he told his friend, "'Dude, I know you just had a child, but I've got to call you back.' I started that call talking about my friend's child and all of a sudden, I'm about to be in that same position."
While he wasn't planning to be a father so soon, it didn't take Greg long to become excited! "When you see the sonogram, that's when you feel it. When you see that picture and you feel it kick and hear its heartbeat and you talk to it, you feel, well a little strange. But you're making the connection, and when you physically welcome your child into the world, it's life-changing." Son Jathan James' birth was "one of the greatest moments I have ever experienced," Greg recalls.
"Fatherhood is so rewarding and emotionally fulfilling in so many ways. I can't tell you how much I look forward to coming home to my family and seeing my son and how he looks at me."
The former model is enjoying watching his son, now two, grow. As he gets bigger, the comments about how Jathan is "the perfect blend between" Greg and Touriya increase! "He did get my chin … He's got my wife's hairline. In fact, he's very similar to her in her baby photos and she hates to admit it, but she's like 'I looked like a boy when I was born,'" Greg laughs. "But he's a good mix."
Jathan is not only a good combination in looks, but also in the languages that he speaks! Touriya speaks six languages and she is in the process of teaching her son Dutch.
"He knows the basics: hands, fingers, toes, nose, mouth, ears, eyes, head, forehead, hair, arms, legs, knees. He knows where they all area. If you say it in Dutch, he can point to every one of them. Now we're learning the alphabets. We say it in Dutch and then in English, and count one to 10 in Dutch and English."
Greg, 35, is enjoying fatherhood so much, could there be a possibility of more children in his future? "Let me put it this way," jokes the actor. "We're never not working on it."
Source: Soap Opera Digest, June 23rd issue
— Angela