MythBusters' Kari Byron Welcomes Daughter Stella Ruby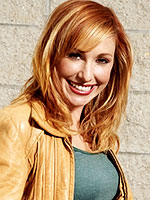 Discovery Communications
It's a girl for Kari Byron! The co-host of Discovery Channel's MythBusters and her husband Paul Urich became first-time parents when they welcomed a daughter at 11:35 p.m. on Sunday, June 28th, a rep for the network reveals to CBB.
Daughter Stella Ruby weighed in at 8 lbs., 12 oz, and mama and baby are "doing well."
Kari, in a humorous skit with her co-hosts, had confirmed the pregnancy in February. Last month, she told Pregnancy magazine that life on set had become a whole new learning experience. "I have weird little worries like how loud does a gunshot have to be for the baby to hear it," the 34-year-old laughed.
— Anya