Josh Turner Welcomes Son Colby Lynch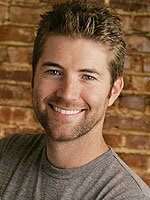 Mark Humphrey/AP
Everything Is Fine is an understatement for Josh Turner! The country crooner and his wife Jennifer became parents for the second time when they welcomed a baby boy — Colby Lynch Turner — on Friday, June 26th, a rep for the singer confirms to PEOPLE.
"I'm just a proud daddy right now," says Josh. As for the couple's first child, Hampton Otis, 2 ½, the toddler is happily stepping into his new role.
"Hampton loves being a big brother and we're just one big happy family."
With Josh, 31, spending the last few weeks recording his fourth album, all involved were hoping baby Colby would delay his big debut until the loose ends were tied. "My producer, Frank Rogers, jokingly told Jennifer that she needed to wait until we finished my record before she had the baby," laughs Josh.
Their wishes were granted; The newest addition to the family arrived only hours after Josh left the studio. "We finished the album last Thursday at 6:00 p.m. After I got home, Jennifer went into labor and we were at the hospital by 10:30 that night. Now that's what I call perfect timing."
The couple, who have been married since 2003, announced the pregnancy in February.
Source: PEOPLE
— Anya with reporting by Katie Kauss