Elisabeth Hasselbeck Dishes On Her Pamperless Pregnancy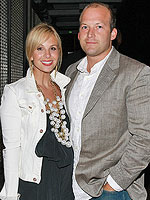 Mike Coppola/FilmMagic
The news that Elisabeth Hasselbeck and her husband Tim were expecting their third child was quite the surprise. No one was quite as shocked, however, as the couple themselves! Two months into the pregnancy when she discovered the real reason behind her sudden tiredness, The View co-host was elated to find out her family would be expanding. "It was shocking, but a good shock," she tells Entertainment Tonight. "Certainly, you can only plan so much in life."
Her delayed response to the tell-tale signs of pregnancy is not coincidental, Elisabeth notes. Already mom to 4-year-old Grace Elisabeth and 19-month-old Taylor Thomas, the busy 32-year-old has little time to focus on herself. "'Oh you're pregnant and isn't this special' — that all happens with pregnancy number one. After that you're too busy, you don't even realize you're actually pregnant," she laughs.
"It's not as, shall I say, pampered the third time around."
While her mind may occasionally forget baby-on-the-way, her cravings indicate otherwise! "I did the cha cha cha diet: chips, chocolate, and cheese straight through, that works for me!" she reveals. Happy to indulge herself now, following the birth of her children, Elisabeth buckles down to regain her body after baby. Her efforts don't go unnoticed; When she returned to her seat on The View shortly after welcoming Taylor, her fabulous figure had viewers seeking advice on shedding the pounds. "People ask me, 'How did you lose the weight?'" she shares.
"I did not lose the weight. I know exactly where every pound is in Central Park that I ran off. I can point to a staircase and say, 'I ran those thirty times … flight after flight.' They're not lost, they're still waiting for me to find them one day, I'm sure."
With baby due on August 11th and Tim scheduled to work for ESPN as an analyst, Elisabeth is not looking forward to what her postpartum life will entail. Her solution? Call in the troops or, in her case, both her mother and mother-in-law! "I've already booked out our moms for August. 'Hey Mom, you're coming here [and] Betsy, you're coming on August whatever," she says. "I have the moms on call because I honestly could not get through that period after [the baby arrives]. It's hard for me after. I wish it were easy, I'd have 12!"
Even with the extra set of hands — in addition to support from Tim, an "incredible husband, father, and best friend" — the soon to be mom-of-three frequently suffers from a sense of guilt as a working mother."I'm still always feeling guilty over something," Elisabeth shares. Although the pangs of guilt vanish when she is spending quality time with her brood, her responsibilities to her show have her juggling her career with the constant demands of motherhood. One thing that won't change, she says, is that her family holds the top spot on her list of priorities.
"They always say there's a ball up in the air. So, make sure that one's not the kids. They're my priority, they really are over everything."
Click below to read about how Elisabeth makes life easier by bringing the kids to work.
Fortunately, to lessen her guilt, bringing her babies to work is an option Elisabeth takes full advantage of. "I bring my kids to work sometimes and it's really fun," she explains. Noting that her co-hosts are "great with kids and my kids love them," there is nothing like life on set with a toddler! "Grace will walk into their offices, even with Barbara [Walters]," she laughs.
"Barbara is on an important call with, like, Sadat. [Grace yells], 'Barbara!' and I'm like, 'Grace! Come back! Maybe later…"
While the pregnancy announcement may have caught her fans off guard, details of the delivery day will be no secret, at least for her dedicated Twitter followers. "I'll be tweeting probably right through birth," she giggles.
"Tim asked me, 'Are you going to tweet through birth?' I might let people know what's going on … my screams for help should be heard across the globe!"
Source: Entertainment Tonight
— Anya