Win an OV-Watch! (A $200 Value)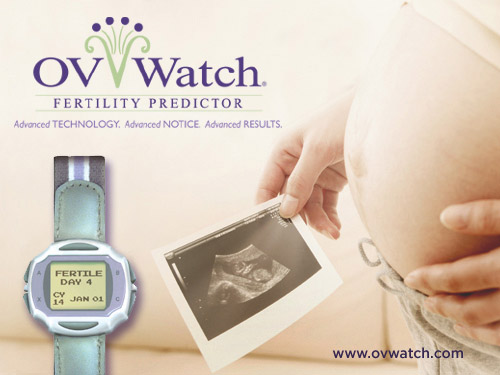 Are you trying to get pregnant? FDA-cleared and patented OV-Watch® finds the 4 days before ovulation, which are the most fertile days of the cycle. OV-Watch uniquely detects the Chloride-ion surge, which is an earlier predictor of a woman's fertility than urine-LH or basal body temp. The advanced notice that OV-Watch provides makes all the difference when you are trying to get pregnant. Those 4 crucial days that only OV-Watch can provide hold an over 80% increased chance of pregnancy for each cycle. Additionally, OV-Watch can be used with Clomid and for patients with irregular length cycles. It takes readings from your skin as you sleep at night and looks for a particular pattern in the data to indicate ovulation with 4 days advanced notice. There are no messy, expensive urine strips to deal with and no complicated charts to keep. All you have to do is wear the watch at night while you sleep. The Bachelorette Trista Sutter credits OV-Watch with getting pregnant with her son Max and says, "Thankfully because of OV-Watch, I knew when I was going to ovulate."
Click here to enter to win an OV-Watch and 4 Sensors!
And, be sure to come back NEXT Monday to see what you could win in our next giveaway!
Online entries must be received between 12:01 a.m. Eastern Time ("ET") on 6/29/09 and 11:59 p.m. (ET) on 7/5/09. See Official Rules.