Natascha McElhone Keeps Memory of Late Husband Alive for Sons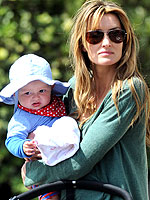 Whittle/Kaminski/Splash News Online
Having lost their father at such an early age, Natascha McElhone says she knows that memories of Martin Kelly "will ebb at some point" for the couples' sons Otis, 6, and Theodore, 8 ½. Fortunately, new baby Rex Coltrane, 8 months, is in a unique position to help. "I think the little one will start to ask questions just at the stage when memories are fading," Natascha says in a new interview with Red magazine, "and hopefully that will bring them back to life again." For now, Martin has stayed "very alive" in the 37-year-old actress' London home. "We talk about him all the time," she says, adding,
"There are pictures of him everywhere and his office is still exactly as it was. The boys go in there and raid it — they love the fact that they're not going to get told off."
Natascha also invokes Martin's memory when the boys are in need of encouragement, or more recently, when they need to straighten up! "I'll often say to them 'That would really make Daddy laugh' or 'He'd be so proud of you,' but the other day my eldest son was being trying," she recalls. "I said to him, 'I think Daddy would have a few words to say to you about that.'"
"He was so shocked, because I've never used Martin in that way before — it's always been for positive stuff. But it just came out. I felt dreadful about it, but then I thought, 'No, that's probably much more real than always using him to commend. Of course Martin sometimes lost his rag with them — I'd forgotten about that."
Click below to read about how hormones kept Natascha strong.
On the outside looking in, Natascha's pregnancy with Rex seems impossibly tough but she says it was just the opposite. "All those hormones are very positive; it must have helped a lot," she says. "Martin was obsessed with his boys and he so wanted another one. New life does invigorate and keep you engaged." Settling into the life of a single mom to three boys Natascha admits, however, that her new role can sometimes be "overwhelming;" To that end, she stays focused on "managing the very basic side of life."
"It's boring, but it's the logistics of the roof leaking, mail coming through the door, the kids' homework, lunch boxes and sports kits. It's up and down and you're the only person…But I look after myself and I hope I'm doing okay."
Noting that 'there's no one else on the planet who cares or has the same investment in [the boys]" that she does, Natascha admits there are moments of "feeling hugely responsible," where she thinks to herself, "I hope I don't screw up, because it will all be my fault."
"At the end of each day, I think about everything I've done with them and if I've been okay. Who knows with kids, but they seem to be doing alright. They're very loving and great fun, which is the main thing. They howl with laughter."
When Martin — a plastic surgeon — was still alive, he was able to help shoulder the childrearing load while Natascha filmed Californication in Los Angeles…with varying degrees of success! One day, when their "brilliant nanny slept in and didn't arrive," he had to take Theodore and Otis to the office with him. As one of the boys pretended to use breast implants as headphones, chaos ensued. "He was a great dad, but he was in work mode with a queue of women waiting for their consultations," Natascha laughingly recalls. She has resumed her work schedule since Martin's death and counts herself "lucky" because the show films during their long school holidays.
"The rest of the time it's so normal. I'm just 'Mummy,' who's often a pain in the butt but who, thank God, they love. I'm the wallpaper in their lives."
Source: Red
— Missy