Lindsay Davenport Welcomes Daughter Lauren Andrus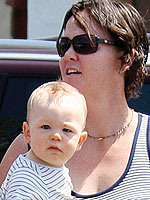 Pacific Coast News
Tennis star Lindsay Davenport's world has just expanded by one! She and husband Jonathan Leach welcomed daughter Lauren Andrus Davenport Leach on Saturday, June 27th at 11:04 a.m. in Newport Beach, Calif. Lindsay's agent reported that "Lindsay and Lauren are doing great, and Jonny and the other man of the family, Jagger, Lauren's brother, are ecstatic."
After announcing her pregnancy in December, the three-time Grand Slam champion later revealed that she was expecting a girl and was hoping her daughter would be a tomboy, "because otherwise I don't know how I'm going to cope," since she herself does not wear makeup or style her hair.
Lauren joins big brother Jagger Jonathan, 2. Lindsay, 33, and Jonathan were married in 2003.
Source: Reuters, Associated Press
Thanks to CBB readers Abby, Jennifer, Caroline and Rose.
— Angela