Gildart Jackson's Family Adventure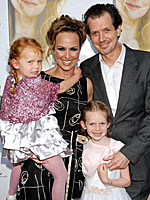 Roger Karnbad/Celebrity Photo
For Gildart Jackson and Melora Hardin, making You was truly a family affair. The couple — married since 1997 — not only feature their two children Rory Melora Jackson, 7 ½, and Piper Quincy Jackson, 4, in the film, they even cast their nanny! Although Rory and Piper got "a different taste of family life" during the 18-day shoot, the experience was "an adventure" in ever sense, Gildart blogs for The Huffington Post. "Making a film is a wonderful, rigorous, all consuming, intense, frenetic, thrilling voyage and as I look back what made our trip even more wonderful was that we were sailing together as a family," he writes, and now Rory and Piper "know that they can set sail, weather the storm, reach their destination and return home."
"Individually, and as a family. I am proud of this gift. As I am proud of the movie. And now, of course, our kids will always have You — our movie — to watch, to show their friends as they grow up, to remember what it was like when our family set sail on the high seas."
The life of an actor provides great flexibility for a growing family, Gildart notes, and the couple are thankful that Melora's role on The Office has been well-received. "I don't work as much as she does, but from the family perspective this is a great thing," he explains. "I get to spend a lot of time with the kids. And, actually, so does Melora even when she's working; she has a trailer and regularly brings the kids to the set." The pay isn't too shabby, either! The couple consider themselves "fortunate enough to be able to afford a nanny when we both need to be doing other things," Gildart writes, adding,
"I think our lives as actors dovetail very well with our lives as parents."
You is an independent film written by Gildart and directed by (and starring!) Melora; It is available for purchase via iTunes, Amazon.com or at the You official site.
Source: Huffington Post
— Missy