Kate Winslet Turns Down Help For Kids' Sake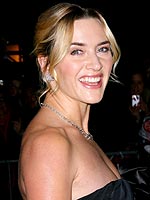 Splash News Online
For Kate Winslet, being a hands-on mom is a source of pride. While many of her peers outsource domestic duties to housekeepers and full-time nannies, the 33-year-old actress and mother-of-two usually opts to go it alone with husband Sam Mendes. "There are things I could implement within my life that would probably make it easier," she notes in a recent interview with Hello! "But I deliberately don't do it because if I did, I would be living that movie star existence that I really try and resist."
"I mean, it's very tempting to have a nanny and live in a gated community and have a chef — I'd love to have a few dinners cooked for me. But I don't want that for my children. When they're older, if people say say to them, 'Did you have a chef?' I want them to be shocked by the question."
Shortly after the interview was conducted, however, Kate relented and hired a part-time nanny according to the UK's Daily Mail. The actress and her husband — married since 2003 — often alternate acting and directing jobs but their collaboration on Revolutionary Road meant that Mia Honey, 8 ½, and Joe Alfie, 5, were along for the ride, much to their chagrin!
"The children were with us the whole time," Kate reveals. "It drove them crazy because usually one of us is with them while the other is working; 'The fact that both of us were out from six in the morning until eight at night was frustrating for them." The end of the process was celebrated by all, Kate adds.
"'They were almost as excited as we were when the film was coming out. And they got to see a lot of [co-star] Leo DiCaprio again so it was very, very sweet."
Mia is Kate's daughter with ex-husband Jim Threapleton.
Source: Hello! via Daily Mail