Fisher-Price Cradle Swing: The New Parent Lifesaver
My brother is having his first baby and like all new parents, he and his wife are completely baffled by what baby gear they really need. I've been doing a lot of thinking about the products they're going to absolutely need in the first few months of their daughter's life.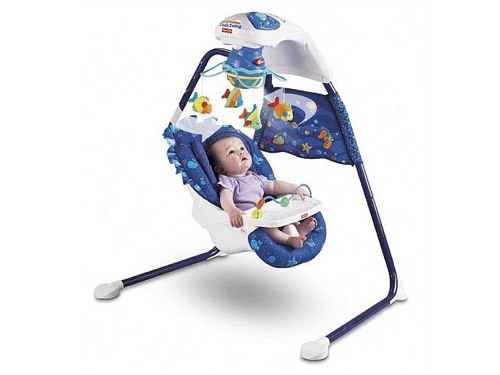 One of the products that literally SAVED us the first few weeks of Anya's life was the Fisher-Price Ocean Wonders Aquarium Cradle Swing ($120). I don't even recall if we registered for it but we received it at our shower and it was definitely the best unexpected gift. The compact size of the box is deceptive as it doesn't exactly have the smallest footprint. Additionally, the colors of the seat were a bit garish for us (we're mid-century modern folks). But we discovered that none of that mattered once we started using it on a daily basis.

One thing you may hear about in the beginning as a new parent is how important it is to get baby on a schedule. Whether you plan to follow that philosophy or not, for the first weeks of your child's life, you have no choice in the matter. Baby doesn't know the difference between night and day and if you want to sleep a solid 4+ hours at night, too bad because your baby thinks it's time to party as much as you want him to be more awake during the day. After the adrenaline wears off, you're going to crash hard and you need some rest so what do you do with the kid who not only wants to be held but wants to be rocked?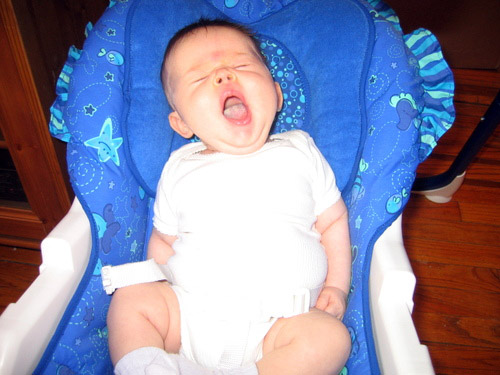 Anya, six weeks old
In our case, we had the Cradle Swing so we put Anya in there at those wee hours in the morning when we thought we were going to die of exhaustion. We kept ours in the living room so we'd crash on the couch while the swing rocked and rocked and rocked and often put her to sleep. Then during the day, we'd use it when we needed a break or when we wanted to prepare or eat a meal. When she was awake, she loved to look up and watch the aquarium mobile and I'm sure the nature sounds lulled her as well.
After Josh returned to work, it was a lifesaver for me when I needed to use the toilet or take a shower or do anything that required two hands, like loading the dishwasher or use the computer. In fact, since she was so fond of the swing, I was able to accomplish quite a bit of work on this site while she rocked next to my desk. I'd look over at her every few minutes, or talk or sing to her, and once she started smiling, she'd give me this HUGE grin.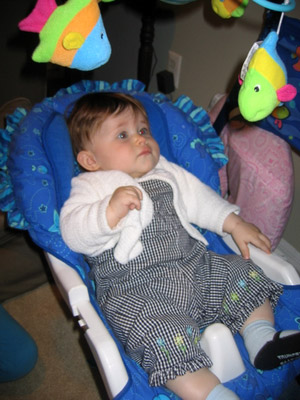 Anya, six months old
The chief difference between the cradle swing and typical swings — and the reason this kind takes up more room and costs more — is the side-to-side cradle swinging motion versus the traditional forward-and-backward motion. The Fisher-Price Cradle Swings do both which is what makes them special. If you find your baby is not comforted by one motion, try the other. Fisher-Price does make traditional swings and they are less expensive so if cost is an issue, you may want to go for the traditional swing.
I've heard that other babies dislike the swing (any swing) as much as Anya loved hers, but there's no way to predict. If you can try one at a friend's house to see if your baby likes it, that's a great way to see if you need to buy one, but in the beginning, you have enough to worry about. Chances are you're not going out too much those first 14 days to try out baby gear or visit, so either borrow one or suck it up and buy one (or request it as a gift). Worse comes to worse, you can return it if your kid doesn't enjoy it or resell it on a site like handmedowns.com.
Since 2005, Fisher-Price has come out with different fashions and themes for the cradle swing — and most are now the papasan style — such as the Butterfly Garden ($119-160), Rainforest Open-Top ($140), Starlight Papasan in Cocoa/Pink or Periwinkle ($119-160), DwellStudio for Target ($140), Precious Planet ($120-130), My Little Lamb ($119-150) and the more high-end wood Zen Collection ($180-210).
Pros: Can be a lifesaver when you can't hold baby. Mobile features provide more entertainment and the tray has a toy but Anya was too young to reach it.
Cons: Takes up more floorspace than a bouncy seat. Baby will probably outgrow it around 5-6 months depending on size and mobility. If you use it often, you will need to replace the D batteries frequently. Your kid may not care for the swing.
Final Verdict: It may seem like an expensive purchase for something you will only use for a few months but it can literally change your life so I advise going for it!
— Danielle