"Natural" Sunscreen Roundup
If you're looking for a more natural sunblock or sunscreen for your family, chances are you'll come across a growing number of brands whose packaging tout natural ingredients but do they make a difference? Whether you opt for a sunblock that block the sun's rays physically, a sunscreen that absorbs ultraviolet light or a sunscreen that combines both blocking and screening agents, you're bound to be find yourself scratching your head in the aisle as natural doesn't mean all ingredients are natural nor does organic mean 100% organic. We took a close look at three of the "natural" sunscreens and sunblocks on the market from Earth's Best, Aubrey Organics and Nature's Gate.
Active ingredients in sunblock physically blocks both UVA and UVB rays using ingredients like Titanium Dioxide and Zinc Oxide, while sunscreen protects by absorbing UVA rays using ingredients like Octinoxate, but ingredients like Aveobenzone, Oxybenzone, and Octocrylene absorb UVA rays too.
All prices are approximate and will vary by location/retailer. We've included scores from Environmental Working Group's Cosmetic Safety Database to compare relative safety (ranked from 1-10, with 1 being the safest).
Earth's Best Organic Mineral Based Sunblock SPF30+ ($12)
Very thick and very hard to rub in — your baby will definitely have the "white" look common to all who use lotion that doesn't rub in well. I feel like there are people who don't feel protected unless there is that white coating, and if you are one of these types, this is probably a good lotion for you and your baby. It has a fairly neutral smell — like many of the Earth's Best hygiene products, it is fragrance and allergen-free.
Paraben-free, PABA-free
Contains physical sunblocks Titanium Dioxide and Zinc Oxide
Contains Organic Calendula Extract to fight sun damage, containing Vitamin A and EFAs, plus Oat Oil and Organic Marigold Extract which soothe skin
Fragrance-free
Does not contain Mineral Oil, Petrolatum
Vegetarian
EWG CSD Score: 2, more info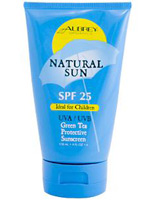 Aubrey Organics Natural Sun, SPF 25 Green Tea Protective Sunscreen ($8.50)
Not your typical sunscreen. I popped open the top of this one and squirted a big line down my arm… without paying particular attention to the "green tea" aspect of the packaging. Be aware that Green Tea clearly plays a dominant role in this product. It does not go on white and lotion-y, like most sunscreens.  t has a definite "liquidy green" makeup that had me wondering if sunscreen had an expiration date before I re-examined the container and learned that green tea, aloe, and carrot do indeed makeup this lotion, which also comes with a faint green tea fragrance. Rubs in okay (not as great as Nature's Gate, not as poorly as Earth's Best) but definitely is not for someone looking for a traditional sunblock.
Contains both physical sunblock

Titanium Dioxide and chemical sunscreen Padimate O

Organic Shea Butter & Jojoba Butter to moisturize,

Organic Green Tea, an antioxidant that prevents free radical damage

EWG CSD Score: 3, more info
Nature's Gate Kids Block SPF 30 Sunscreen, Giggleberry Scent ($9)
I'm not sure exactly what a "giggleberry" looks like, but it sure smells nice! This new sunscreen for kids from Nature's Gate provides an alternative to the typical sunscreen scent that usually results from slathering on, well, typical sunscreen. Another plus is that the lotion rubs in easily to the skin — no "kneading" necessary, and no sticky or oily residue left on my hands (which means it doesn't get all over their clothing — yet another plus!).
In addition to the physical sunblock Titanium Dioxide, it also contains the chemical sunscreens Octinoxate, Octocrylene and Oxybenzone
Paraben-free
Contains Aloe Vera, Kola Nut Extract which has anti-inflammatory properties, and Bisabalol, the key ingredient in Chamomile, for its soothing benefits
Vegan
EWG CSD Score: not scored
— Lisa and Danielle
Do you have a favorite "natural" or organic sunscreen or sunblock? Tell us about it.