Ana Ortiz Admits She's Nervous About Labor, Nursing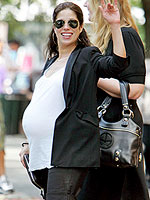 Ramey
Not quite stage fright, more like labor fright! "I'm nervous about labor," Ana Ortiz, who was due with her first child yesterday, tells Pregnancy magazine. "To me, it is just so unknown."
While the delivery process is not completely new for the Ugly Betty actress — she has been a birthing coach in the past which has made things "a little less scary" — Ana is hopeful things will run smoothly with the help of her husband Noah Lebenzon, her mom, a close friend and an epidural!
"My girlfriend was really trying for natural and we went as far as she could. I am telling you, I felt like Shirley MacLaine in Terms of Endearment because as soon as she was like, 'I think I need the epidural,' I was running in the hallway: 'Get my daughter the meds! Get her the epidural!' It's hard to see someone you love in that kind of state."
Her nerves don't stop once baby girl arrives; the expectant mama, who is looking forward to nursing, admits the fear of the unknown matched with a few horror stories has left her uncertain of the future. "I've heard so many incredibly difficult stories, and it's something that I really want to do, but I'm just so nervous about it," she says of breastfeeding.
Source: Pregnancy
— Anya