Adriana Lima and Marko Jaric: 'We're So Ready For This'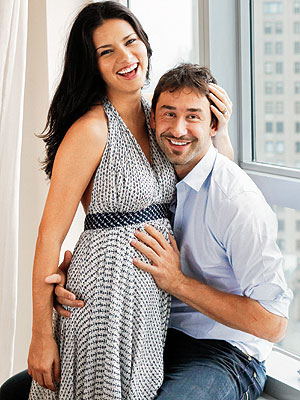 John Huba for PEOPLE for use on CBB
Adriana Lima isn't living the life she first anticipated.
"I never saw myself being married and having a child," says the supermodel, who eloped on Valentine's Day and is expecting her first child in December. "Not because I did not want to. But it's tough to find somebody."
That changed at a party in Los Angeles in 2006, when Adriana, now 28, met Marko Jaric, a guard with the Memphis Grizzlies. Suddenly, "everything changed," she tells PEOPLE. "I knew he was the one and I could see myself married with him and with a big family."
So far, those premonitions are coming true. After becoming engaged a year ago, the pair tied the knot in a small ceremony in Jackson Hole, Wyo., witnessed only by the couple's lawyers. "It was really romantic."
Originally, "We wanted to have a big wedding with my family from Serbia and her family from Brazil, but we realized we don't want to make a wedding for other people, just to show off," says Marko, 30. "We realized the wedding is a really private thing and it's to make us happy."
In the end, the bride wore a simple black dress, and "there were no worries," she says. "It was just me and him."
Soon after the honeymoon, Adriana learned she was expecting. "We are so excited!" she shares. "We wanted this. We were ready."
"Even in my wildest days I knew that I wanted to be the ultimate family man," Marko adds. "We're ready to settle down."
"If it were up to me the nursery, everything would be done already!" laughs Adriana, who is four months along — and who has help back home in Brazil. "My mom is doing everything and getting things ready," Adriana explains. "She'll bring everything."
This includes a hand-crocheted blanket made by the model's grandmother, which will fit in with the all-white color scheme Adriana has picked out — white being neutral, as she doesn't yet know the sex of the baby.
What does Adriana know about her coming arrival? It likes sweets! "Now she has an excuse: 'It's not me, it's the baby," laughs Marko. "I say, 'Maybe the baby needs some salad,' but I guess the baby is only craving chocolate!"
"I have been sick all day and very sleepy," the Victoria's Secret Angel says, noting that she'll be sitting out the lingerie giant's fall fashion show. "Unless I can be dressed as Santa Claus!"
Source: PEOPLE, July 6 issue
— Charlotte Triggs