Joel Madden's Parenting Advice: Live and Learn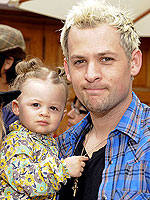 Ramey
Back in the studio working on Good Charlotte's fifth album, song writing for rocker Joel Madden involves a whole new inspiration: a father's love. "Fatherhood has a profound affect on just who you are," he tells PEOPLE. Now, the proud papa to Harlow Winter Kate, 17 months, and another baby on the way, Joel finds his new take on life to be a point of focus in several of his songs. "It definitely gives you a whole new world to write about," he shares.
The lessons of parenthood aren't just obvious in his music; the 30-year-old admits that having a family has equally changed his day-to-day routine. "You really can't plan anything, you don't know anything," he says. "You just have to take it as it comes." Noting that a baby does not come complete with a manual, Joel can only offer one piece of advice to new parents — live and learn! "I mean, we're not the first people to have babies so you're going to be alright no matter what," he explains.
"You have to have your own experience and learn as you go. Kids are very resilient and you just have to take it a day at a time."
With girlfriend Nicole Richie expecting the couple's second child, the baby's sex is being kept under wraps until delivery day. In fact, according to Joel, even he and Nicole are in the dark as to whether they will be seeing pink or blue! "We don't know what sex it is," he reveals. One area where they don't have to play the guessing game? Pregnancy. Fortunately, having learned the ropes with Harlow, things seem to be falling into place "a lot easier" the second time around. "You've already been through it and it's not as intense and dramatic," he notes.
"It's all icing on the cake."
Source: PEOPLE
— Anya with reporting by Mark Gray