Disney Goes Organic!
It's great to know that even large companies like Disney are making an effort to provide their customers (or "guests" in their parlance) with organic and eco-friendlier options.
They are now offering Disney clothing, animal crackers and disposable/biodegradable placemats!
For babies, the Disney Organics Baby Apparel Sets ($13-26), available in sizes up to 18 months are made from 100% organic cotton and feature adorable Winnie-the-Pooh characters. The girl's dress comes with matching bloomers while the boy's sleeper includes a matching bib. Available exclusively at JC Penney, online and in stores.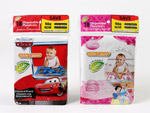 The Disney-Pixar Cars, Disney Winnie the Pooh and Disney Princess Table Toppers ($8) are biodegradable BPA-free, PVC-free and phthalate-free place mats that provide a sanitary surface while dining out plus the cute Disney designs will keep kids occupied while eating. Of course, the most eco-friendly placemat is a reusable one but at least these are biodegradable. Just peel off the adhesive-protector strips on the reverse side and stick on the table. They're easy to remove when it's time to go. Plus, the designs are printed on the reverse side so your child's food doesn't touch the ink! Table Toppers were a staple in our diaper bag before meals on-the-go could not be kept on a plate. Available at Target, Walmart and Toys"R" Us.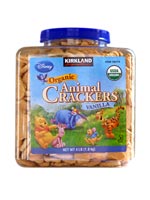 Finally, the Organic Animal Crackers ($8.60), which are available at Costco, are yummy USDA-Certified Organic vanilla cookies in classic Disney character shapes like Eeyore, Winnie the Pooh and Roo. They come in a 64 oz. tub that can be re-used for storage afterwards.
— Danielle