Steal That Style: Diaper Bags to the Stars
After baby arrives, getting out the door suddenly becomes quite the production. While some moms, including Elisabeth Hasselbeck, may experience the occasional slip-up and find themselves short of a diaper, wipes, or an extra set of clothes, most parents catch on quickly: never leave the house without the diaper bag!
From New York City chic to laid back Los Angeles, celebrities have no trouble making the essential bag double for both baby and themselves. Stepping out in the city, Liev Schreiber and his son Sasha made for quite the dashing duo, complete with dad carrying Skip Hop's Dash ($58). On the other side of the country, Milla Jovovich and her daughter Ever kept things colorful with the actress/model toting a Mia Bossi Caryn diaper bag in Cherry Fizz ($370). We have also spotted Gwen Stefani using Harajuku Lovers Poppin' Satchel during a park play date with her boys. For Jessica Alba, choosing between Jamah's The Nanny ($649) — of which Brad Pitt is also a fan! — and Storksak's Dori Messenger bag ($165) must be a tough decision!
In a recent poll, CBB readers voiced their own opinions when it came to dishing out the dough for a diaper bag. While 13% would be willing to spend over $150, the majority of you at 43% opted for a more budget-friendly $50 or less option. Fortunately, we've put together a list of celebrity favorites for any wallet, from the luxurious Nest to the affordable Fleurville!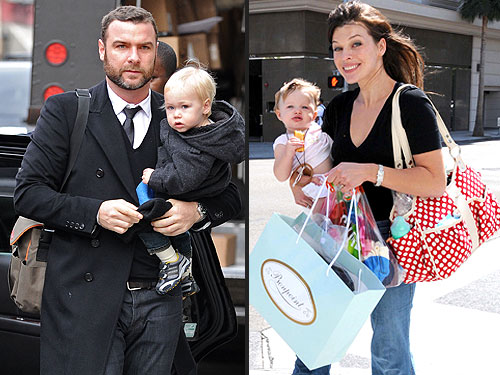 Asadorian-Mejia/Splash News Online; Marcos Vasquez/RAMEY
Steal That Style: Diaper Bags to the Stars with their favorites listed below!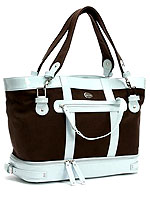 Nest Canvas Bag
Breaking the Bank: We first spotted the Nest Canvas Bag ($220) when actress Tori Spelling showed it off on her way into a doctor's appointment and the tote quickly caught our eye! Made up of cozy canvas material, the Canvas Bag comes complete two interior bottle holders and two divided pockets, all kept safe by the magnetic snap closure. The bag comes in two colors: chocolate and pool or khaki with black patent leather.Who else can't get enough of Nest? Expectant mama Heidi Klum, who has been spotted carrying The Whipstitch Bag ($386).
Proud new parents Cam Gigandet and Dominique Geisendorff rely on their Storksak Emily ($175) when out and about with daughter Everleigh; However, they aren't the first celebrity couple to take the plunge with Storksak! Actors — and parents of six — Angelina Jolie and Brad Pitt are avid fans of the company, with their collection boasting not only the Emily bag, but also the Gigi Chocolate ($198) and the Jamie ($210) options as well. Even first-time mama Jessica Alba is rarely seen without her Storksak Dori bag these days!
CBB Deal: Get 10% off your purchase at BlissLiving.com with code CBBSUMMER09 (Expires 9/30/09).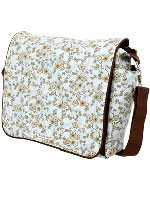 Jessica Messenger Bag
Not Pinching Pennies: From Sheryl Crow to Carnie Wilson, there is certainly a celebrity buzz over Bumble Bags! With both mamas choosing the Jessica Messenger Bag in Blue Latte ($128) for their son and daughter respectively, there is little doubt that this diaper bag is a great choice. With the ability to convert from a shoulder bag into a back pack, the Jessica also includes a detachable changing pad, large pockets, and a water and stain resistant exterior. Another fan of the collection? Jason Priestley and his wife Naomi, who have been spotted more than once toting their Madeline backpack in Pink Paisley ($99).
CBB Deal: Get 20% off your purchase of a Jessica Messenger Tote at LaylaGrace.com with code CBB (Expires 7/9/09).
With parents all throughout Hollywood turning to Ju-Ju-Be, the beautifully designed bags have added quite the splash of color to the celebrity scene! A fan of the JJB Dad Bag in Khaki/Orange ($125), which is also available in Black Silver, actor Matt Damon is one of many proud papas who rely on the spacious, yet carefully padded messenger-style bag when it comes to packing up their gear. Matt is not alone in his choice — Jason Sehorn and Larry Birkhead also are fans of the design. On the mama's end, Ali Landry and Rebecca Romijn agree that the PackaBe ($120) is the way to go!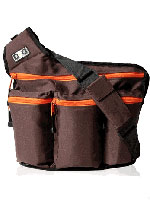 Diaper Dude
Bargain Buying: Famous for their father-friendly styles, Diaper Dude is a hit with singer Drew Lachey and his family; He has been spotted out for a stroll with daughter Isabella, with his Diaper Dude Camo ($60) slung casually on the back of the stroller. That said, the padded back, changing pad, and the large inner compartment features have also lured in celebrity moms, including Tori Spelling and Mira Sorvino.
As Violet Affleck and James Wilkie Broderick have made their Fleurville lunch pak ($32) and messenger bags ($50) a staple for school, mother-of-two Denise Richards is equally a fan of the company's Beach Bag ($50). Sporting a water and UV-resistant exterior, the beautiful White Pink Ogo, eco-friendly design includes padded loop handles and mesh pockets. As an added bonus, the bag is PVC-free!
A great alternative to the traditional diaper bag, Lands' End Canvas Totes ($24-$37) work great for Suri Cruise, who kept her doll safe and sound in her tote, and also Patrick and Jillian Dempsey, who stashed the family's beach essentials in their bag during a trip to Hawaii. A great bag that is sure to hold up in the toughest conditions, the Lands' End tote is also a favorite of Deacon Phillippe.
What bag do you use?
— Anya