Ana Ortiz: Bags Are 'Mostly' Packed!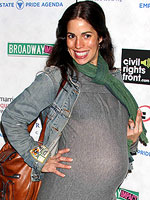 Robert Pitts/Landov
The last month of pregnancy can be agony as an expectant mom waits for labor to begin, and many will pass the hours by preparing for the time they'll spend away from home. Ana Ortiz tells OK! that she, too, will be ready to roll when the magic moment arrives! "The bag is packed — mostly," she says. "I need to get some toothbrushes." One thing the 38-year-old Ugly Betty star likely won't be needing is a crash diet or extra hours in the gym to reclaim her pre-baby body. Reveals Ana,
"Because they didn't write [my pregnancy] into the show, it was kind of important to me to try to stay as much in shape as possible. It's the first time I ever worked with a trainer because I didn't know how far to push everything."
Although she shot the third season of her hit ABC show while pregnant and begins shooting season four in a few weeks, not all of her professional endeavors have been so accommodating. "I was actually gonna audition for [Broadway's Chicago] and then I got pregnant," she admitted, adding that she will "definitely" try out for the parts of Roxie or Velma after she delivers.
Baby-on-the-way — a girl — is due Thursday, and will be the first child for Ana and husband Noah Lebenzon.
Source: OK!
— Missy