Maya Rudolph On Accepting Imperfections As a Mom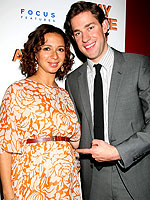 Dave Allocca/Startraks
While pregnant with daughter Pearl Bailey, now 3 ½, Maya Rudolph admits that she harbored a "fantasy" about what kind of mom she would go on to be. Theory clashed with result, however, when Maya realized — like most moms do — that having a baby sometimes doesn't change everything. "You're still the same person, the same things still bother you, you're not perfect," she explains. "But you can still be someone's parent, someone's mother, and it can still be okay."
"There's no question that you want to give them everything and you want their lives to be perfect. Has any human achieved that? No, probably not."
In an interview conducted by her Away We Go co-star John Krasinski for BlackBook, Maya opens up about the moment Pearl was born. A delivery surprise, the big reveal was delayed even longer than usual! "When she finally came out, there was a really quick snip and suddenly, she was resting on my chest, staring at me," Maya explains. "And her eyes were super-black. She looked like Marlon Brando in The Island of Doctor Moreau, because she was covered in all of these white blankets staring at me."
"I remember, in that moment, thinking, 'Yes, this is my baby.' I'd always tried to picture what my baby would look like, and in that second, I was like, 'Yes, this is the baby I've been expecting.' And then the doctor said, 'Oops, we forgot to see what it was.' I didn't know if it was a boy or a girl, but I knew it was my baby."
That feeling has only been reinforced as Pearl has grown. Deemed the "coolest girl I've ever met" by John, Maya says that the apple hasn't fallen far from the tree. "Let's put it this way: If she had come out as a total wallflower, and said stuff like, 'I hate reading and I don't like to perform,' then I'd be like, 'That's not my kid,'" Maya says. "So it doesn't really surprise me that she's like, 'Hey, I'm funny and I like to hang out.'"
"There's no question: you get that proud mom grin sometimes, when it's like, Check it out. That's my kid. But, yeah, she is who I thought she'd be in a lot of ways."
Click below to read about how Maya drew on her previous pregnancy experience for Away We Go.
Currently expecting her second child with partner Paul Thomas Anderson, Maya says that she was able to draw on her experience with pregnancy while shooting Away We Go, in which she plays an expectant mother. What was even more special for the 36-year-old actress, however, was remembering what her pre-mom life was like — a time when she says she had "absolutely no f-cking clue [about] what's coming next."
"For me, it was actually kind of a sweet relief. I got to enjoy this really, wonderfully delicious, selfish time when I didn't have a kid, so I wasn't really responsible for anything, like feeding another human being. Remembering what my life was like was fun, and it made me actually feel a hell of a lot younger."
Maya says that the love she's experienced as a mother hits her "all the time," adding, "I almost feel like my heart got a little bit…bigger."
Away We Go is in limited release now and goes wide this weekend.
Source: BlackBook
— Missy