Ellen DeGeneres Says Kids Are Not In the Cards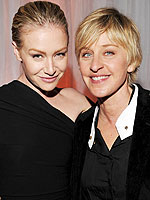 Lester Cohen/WireImage
Since tying the knot last August, Ellen DeGeneres and Portia de Rossi have found themselves in the center of the rumor mill, with constant reports that the two will be getting a visit from the stork soon. While Portia set the record straight and denied any speculation that the couple was expanding their family back in March, in a new interview with AOL, Ellen clarifies that children may never be in the cards. "No, I don't think we're going to have kids," she says.
"We have animals and we love them. They don't talk back, and they don't explore their vocal chords out in public."
That said, life for the talk show host and her wife, star of Better Off Ted, is filled with newborn cries! Newly crowned aunts after Portia's brother welcomed a baby girl, the couple are happy to "be a part of that," but feel completely fulfilled in their marriage — sans baby. "We definitely thought about it," she reveals.
"But it's a huge responsibility and I don't think that's something we want to take on."
Source: AOL Television
— Anya