Tyrese On Doing Whatever It Takes to Be With Daughter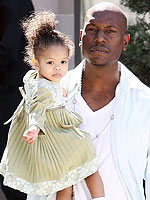 Rafael Guimaraes/Ramey
Although he is in the midst of divorce proceedings, Tyrese Gibson nonetheless admits in a new interview with Upscale magazine that he misses being married. "Even though there are lot of random things running around, you still want that solid foundation at home," he adds.
The 30-year-old singer and actor is determined to provide exactly that to daughter Shayla Somer, 23 months, however, and putting his differences with estranged wife Norma Gibson plays an important part. "There's gonna be moments where the energy is funky and uncomfortable, but do your part," he explains.
"There's a lot of people in your life that you do not necessarily get along with or are not on the same page with, and you're still in their life. So do what you have to do so that you can do what you want to do, which is spend time with your child."
Tyrese and Norma separated in October after 10 months of marriage.
Source: Upscale
— Missy