Jada Pinkett Smith Says Willow is a 'Wild Child'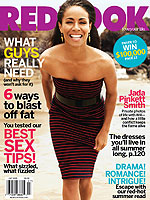 Courtesy Redbook
In the July issue of Redbook magazine, Jada Pinkett Smith reveals that daughter Willow Camille Reign, 8 ½, is "a wild child" — just like her mom. Jada, 37,  recalled that, as someone who has "always loved snakes," she nonetheless was afraid of them; Willow changed all that, though, with her pet snake Beauty. "She'd go into the pet store and pick it up and wrap it around her," Jada recalled.
"I'd never touched a snake before, and I put out my hand, and Beauty [mimics the snake slithering up her arm]. I've been in love with her ever since. I said to Willow, 'You did Mommy a big favor. You helped me overcome a fear.'"
When asked by the magazine whether any of her personality traits are evident in Willow's big brothers Jaden Christopher Syre, 11 next month, and Willard 'Trey' Christopher, 16, she answered in the affirmative. "Oh, yes. I see myself in Willow and Jaden — and in Trey, and he's not even my biological child!" Jada adds,
"It's amazing because you can see the most beautiful parts of yourself in your children. That's what I love most. When I look at my kids, I go, I hope to God they don't get my ugly parts. Get your own ugly stuff, not mine!"
Willow and Jaden are Jada's children with husband Will Smith. Trey is Will's child from a previous marriage.
Source: Redbook