Birthday Party Bash for Wii: Easy to Plan and Fun, Too!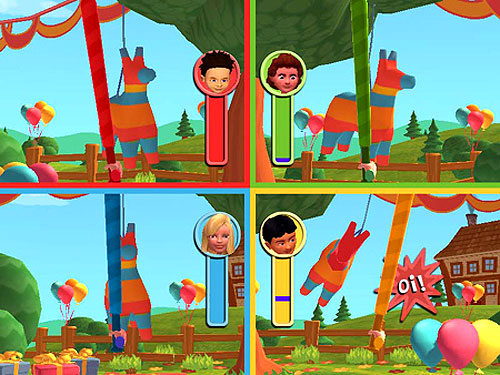 Courtesy 2K Games
Birthday parties are usually fun for everyone involved, but for busy parents, they can often be overwhelming to plan. Enter Birthday Party Bash ($40), a brand-new Wii game from 2K Play that packs everything needed for a fun kids' birthday party into one little package.
The game itself — which accommodates up to 12 players — features 20 classic birthday games with a modern twist. Kids can swing a Wii remote to break a piñata, jump up and down to simulate a potato sack race and use their hand-eye coordination to stack cakes in a Duncan Hines-sponsored challenge. Different themes customize the party for your daughter or son: "Princess" features virtual prizes like fancy crowns and castles while "Pirates" offers up swords and treasure chests. When the game finishes, the "Happy Birthday" song plays, and guests are invited to sing along.
Along with the games, Birthday Party Bash includes 12 pre-printed invitations, plus coupons for Duncan Hines and Party City. The brand has a partnership with invitation site evite.com, as well. Though some may criticize the game for making birthday parties completely virtual — the point is to interact with other kids, after all! — it does save parents time and money, and makes old-fashioned games a little more current for a generation of texting 'tweens.
Birthday Party Bash will be released on July 14; you can pre-order on Amazon.com or EBGames.com.
— Kate