Sir Elton John Pushed Diana Krall to Start a Family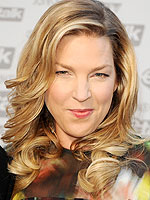 George Pimentel/WireImage
What would you do if Sir Elton John sat you down and told you to start thinking about having kids? For singer Diana Krall, she listened! Diana hadn't thought much about parenthood, busying herself in the recording studio and caring for her mother, Adella, who passed away from bone cancer in 2002. However, when she found herself in love with musician Elvis Costello a year later, the couple's friend Elton sat her down for a little chat.
"He says, 'Diana, you're 39 — you're going to be 40. You better start thinking about having kids,' and I went, 'Right … .' But usually, you'd have a parent, your mom would tell you that."

Taking the singer's advice to heart, Diane and Elvis began trying for children, welcoming fraternal twin sons Dexter Henry Lorcan and Frank Harlan James, now 2 ½, in December 2006. Becoming a parent herself allowed Diana to "feel my mother back in me," she explains. Taking the twins on the road with her for much of her current tour, the songstress notes that Elvis pulls his weight as well!

"We're equal parents. He's home with them now with Vancouver, and he looks after then when I have to go to Washington to play for the president."
The 44-year-old's latest album, Quiet Nights, was released on March 31st.
Source: The Daily News Online
— Angela