Tori Spelling on Her Kids: Sibling Love is Strong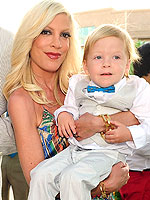 Albert Michael/Startraks
Nothing but sibling love for the Spelling-McDermott kids! In a new interview with iVillage, Tori Spelling admits that while the relationship between son Liam Aaron and daughter Stella Doreen took a bit of work, the pair now delight in each other's company. "He actually went from ignoring her to kissing her and trying to tickle her," she says, citing their bond as a result of the toddler being included in what the family dubbed "the Stella process" — introducing baby girl to their household.
The children's apparent love for each other shines through during their favorite time of the day: bath time! While 1-year-old Stella enjoys making a big splash in the tub, 2-year-old Liam turns to his toys for some added fun. "He has a rubber shark he swims around the tub," Tori shares. However, at the end of the day, nothing quite compares to having a water buddy.
"Sometimes we bathe them together and they love that. Liam says, 'Bathe buggy' and tries to wash Stella with his washcloth."
Once the two are settled in their beds and fast asleep — Liam opts for Goodnight Moon and his sound machine, while Stella prefers her bottle and a song from mom — Tori and her husband Dean McDermott finally have time for themselves. That said, according to the 36-year-old actress, despite their busy schedules, the two manage to keep the romance alive during the day as well! "We keep the romance going by always physically and romantically checking in with each other," she explains.
"We make eye contact throughout the day and give each other kisses and hugs in between baby wrangling."
Source: iVillage
— Anya