Thalía 'Always Knew' She Would Have a Daughter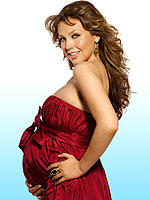 Jimmy Lenner, Jr.
Parenthood has forced Thalía and her husband Tommy Mottola to slow down, and during a recent appearance on The Today Show the 37-year-old songstress says it has been a welcome change. "He is such a great daddy and you know, we are in a time of our lives where we enjoy being parents," she says. "Before I was working a lot, he was working a lot…but now it's about the family. It's about the baby." That baby — 20-month-old Sabrina Sakaë — was not a delivery surprise, though to hear Thalía tell it there was never any question what she was carrying.
"Intuitively I always knew it was a girl, and I always knew she was Sabrina."
Unfortunately, her intuition was not as prescient when it came to pregnancy and life postpartum! In what she dubs a "secret society," Thalía says that moms do themselves a disservice by not being fully forthcoming with other moms. "Nobody prepares you for those moments after you have a baby," she laments. "The pains, the aches, how long it takes to recover after all of this process…Nobody really prepares you for the whole thing." In her new book Thalía: Radiante! Thalía hopes to buck that trend by focusing on the positive aspects of pregnancy while also being honest with expectant moms.
"Every book that I read when I was pregnant was scary and negative and everything was very technical. What about the spiritual part? What about the yoga? What about the being positive? What about the eating right? What about the fashion?"
The book also contains tips for overcoming morning sickness and eating healthy, as well as numerous recipes — including one for Thalía's signature 'mommygranate' mimosa mocktail! "While you're pregnant you have to give yourself a chance to have some fun," she says with a smile.
Source: The Today Show
— Missy