David Letterman Dishes on Harry's Wedding Day Confusion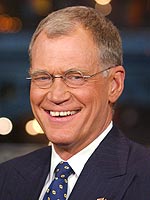 John P. Filo/CBS
When David Letterman married Regina Letterman in March, it was no doubt a special moment for the longtime couple. What made the occasion "kind of fun," however, was the presence of a very special guest — their son Harry Joseph, 5 ½. "He though I was getting my drivers license, because when you get there there is a lot of 'Okay, sign this. Okay, fine. Okay, good. Okay, here you are,'" David quipped to guest Julia Roberts during her recent appearance on the Late Show with David Letterman. "It was a nice day."
But not one without incident! David had prepped Harry that the "it would all be over by 3 p.m.," but the ceremony was delayed when the family's truck became stuck in the mud on the way to the courthouse. "Now he's late and he knows he's late, and he throws a little fit in the car," David recalled. "So twice on the way to getting married I had to stop the car and do one of those…" Julia then interjected with a shaking motion, prompting Dave to laugh. He added,
"It wasn't funny at the time, but looking back on it…It was me, it was my son, it was Regina and it was the justice of the peace. And that was it. It's legal. I mean, that's the most important thing, right?"
Harry is the first child for both David and Regina, who began dating in 1986.
Source: The Late Show with David Letterman
— Missy