Darryl Worley 'So Happy' With Wife and Daughter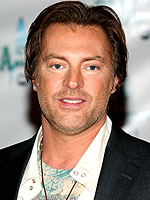 Bryan Bedder/Getty
The speed and ease with which a new baby infiltrates every aspect of their parents lives can catch some off-guard, and for Darryl Worley, life with baby is readily apparent on his new album. Sounds Like Life features several songs inspired by daughter Savannah Gail, 14 months, and wife Kimberly — and the 44-year-old country crooner makes no apologies.
"I didn't want people to think I was trying to overload this project with songs about my wife and baby and make it something it shouldn't be," he admits. "But [these songs] found their way into my head and my heart because that's where I'm at right now, and I've never written stuff like that before so I'm happy."
He's also stretched to his limits! Darryl admits that promoting the album has often pulled him away from the wife and daughter who inspired the songs in the first place. "We're working really hard with this single to get it back up the charts and to get things rolling," he says.
"We're not going to let up on it, but I wouldn't sit here and say it hasn't stressed my family life some. I'm just going to make it work…My wife has the same mindset. Is every day hunky dory and just like a fairy tale? No. But the fact that we are together and love each other the way we do is just like a fairy tale, and we don't intend to let that go."
Kimberly is understanding that "this business is in your blood," Darryl notes. "My wife said, 'You ain't never going to give this up. You couldn't if you wanted to.'"
Source: The Tennessean
— Missy