Steal That Style: Catch Up on Car Seats!
Have car seat, will travel! With the addition of every baby comes the added expense of a car seat, and while there are a variety of options that branch out into each price range, celebrity parents seem to lean toward the beloved Graco.
Proudly showing off 2-day-old son Maxwell Edward, Lance Armstrong and girlfriend Anna Hansen opted for the Graco Snugride in Melbourne ($90) to welcome their newborn home from the hospital. Naomi Watts, who once depended on the Orbit system for son Alexander 'Sasha' Pete, has had a change of heart: carrying her then 3-month-old son Samuel Kai to the pediatricians, she showed off her Graco Snugride back in March. New dad Matthew Settle also seems to have been bitten by the Graco bug! Out nine weeks after welcoming daughter Aven Angelica, the Gossip Girl star was spotted at an appointment with his baby girl snuggled in her Graco Snugride in Carmen ($160).
Other fans of Graco include Jerry O'Connell and Rebecca Romijn, who have been seen strolling with their fraternal twin daughters Dolly Rebecca Rose and Charlie Tamara Tulip tucked in their carriers, and Carson Daly, who walked the neighborhood with both son Jackson James and Graco in tow!
Although it is clear that the majority of stars seem to have chosen the Graco Snugride, we have managed to catch a few celebrities who have gone against the grain! In December we saw Gwen Stefani proudly carrying her second son Zuma Nesta Rock in his Brio car seat, while actress Natascha McElhone passed through an LAX terminal with her third son Rex relaxing in his Maxi-Cosi Mico.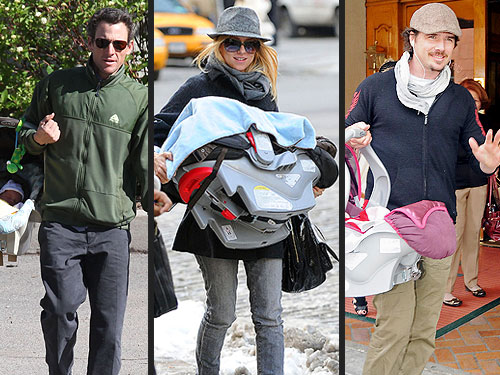 Fame; Most Wanted; Ramey — Lance Armstrong, Naomi Watts, Matthew Settle
Steal That Style: Catch Up on Car Seats with the carriers below!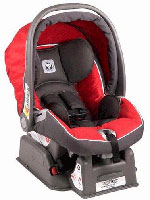 Peg Perego Primo Viaggio SIP 30/30
Breaking Bank: A favorite of Ricky Martin, we're loving the Peg Perego Primo Viaggio SIP 30/30 car seats. Much like the Britax listed below, this upgraded model from the original Primo Viaggio, allows babies to stay rear-facing until they reach 30 lbs and/or 30 inches, however complete with its own unique set of features, the Peg Perego can be used sans base. In lieu of the standard base for the car, simply install the carrier using the seat belts.
Although not spotted being carried around nearly as much as other, more affordable options, high end car seats certainly come with their fair share of perks! While the price may catch some parents off-guard, the Britax Chaperone's ($230) great features, including an extra large canopy and anti-rebound bar which offers added stability to the seat during a car collision, can ease the pain come time to pay the bill. An added bonus? Babies can rear-face up to 30 lbs!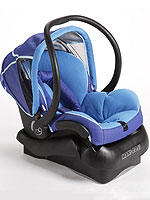 Maxi-Cosi Mico
Not Pinching Pennies: Leaving a food store with his parents Matthew McConaughey and Camila Alves, little Levi was happy in mom's arms while dad showed off baby boy's stylish Maxi-Cosi Mico ($170) infant carrier. The lightweight design, with its splash of colorful fabrics, comes complete with side impact protection and energy absorbing foam, along with a Cozi-Dozi head insert for infants.
The go-to car seat for a long list of celebrity parents, the Graco Snugride 32 ($150) is an improved version of their original Graco Infant Snugride ($90). With features such as a 5-point harness made adjustable with a front strap and a 180 degree canopy, parents who are willing to dish out a bit more dough are now able to keep their babies rear-facing until 32 lbs and/or 32 inches. Also check out the Chicco Keyfit ($170), whose two precision bubble levels guarantee that baby is safe and secure, and the Combi Shuttle ($170), which comes complete with the anti-rebound feature attached directly to the car seat.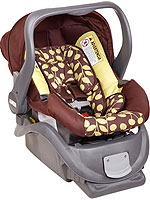 Mia Moda Viva Supreme
Bargain Buying: As many of you have told us, bargain buying is simply not an option when it comes to the safety of your little ones; We know, however, that sometimes, a quick reality — and budget — check leaves parents searching for a safe, affordable alternative to the high-end carriers. While the higher price tag generally means better quality, the Mia Moda Viva Supreme ($100) not only provides newborn head support, but also boasts a 5-point harness and a 3-position adjustable base.
The Evenflo Embrace ($80), another budget-friendly choice that offers a unique EZ carry handle and a removable baby body pillow, is much like the Viva Supreme in that both seats have the ability to keep infants rear-facing until 22 lbs. Other affordable options include the Baby Trend Flex ($89) and Safety 1st Designer 22 ($50).
Which car seat did you purchase for your baby?
— Anya