Mary Louise Parker Opens Up About Ash's Adoption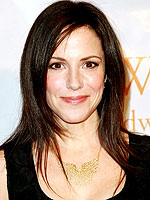 Neilson Barnard/Gett
The term dinner party takes on a whole new meaning in the Parker household! Appearing on the cover of Web MD's May issue, Mary Louise Parker proudly declares herself a balanced parent, "from permissive to disciplinarian," adding that she provides a sense of structure for both William Atticus, 5 ½, and Caroline 'Ash' Aberash, 2 ½.
While she keeps a strict bedtime and is a stickler for manners, Mary Louise is also known for her impromptu dance parties. "Sometimes we'll get up in the middle of dinner and have a dance party just because there's music on and everybody's happy," she says. The fun doesn't stop there for her children — the 44-year-old mom nurtures their artistic talents as well!
"There's also one wall in my living room that the kids are allowed to paint on, and sometimes we'll empty all the food that's gone bad out of the refrigerator, put it in a bucket, mash it around, call it witches' brew."
Expanding her family of two with the adoption of her daughter in 2007, Mary Louise, admits undertaking the responsibility as a single mother was intimidating to say the least! "I finally just decided, 'Okay, I'm going to do this, and it's going to be really hard because I'm single, and I'm going to do it anyway," she shares. Initially concentrating on Vietnam as her country of choice, when the actress was approached about the possibility of a child from Ethiopia, she never looked back. "It had never occurred to me before, but … I wanted to go somewhere where there was a need," she explains.
"It's not like I only wanted to enlarge my family. I really wanted to give a child a home."
Despite her complete devotion to bringing baby girl home, Mary Louise admits both her and Ash faced criticism following their return. "Somebody asked what her name was, and I told them Aberash," she recalls. "They said, 'Did you make that up or did she come with that?' Like she was a car!" That said, the proud mama was determined to keep her little girl's name — the only gift, she says, the child had left from her biological mother.
"I can't give her a locket, a picture, a letter — that's it. That's profound to me and I don't want to rob her of it."
William is the actress' only child with actor Billy Crudup.
Source: Web MD; May issue
— Anya