Happy (Almost!) Father's Day from CBB!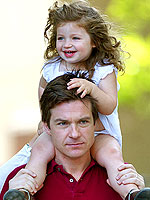 Jackson Lee/Splash News Online
Our dads do a lot for us, and they deserve much more than one day out of the year for a celebration! But with Father's Day just around the corner — this Sunday, June 21st! — we're paying special tribute to celebrity dads with a fun new photo gallery: Daddy's Girls!
From Tom Cruise and Travis Barker to Seal and Jason Bateman, we just love the dads of the adorable daughters who regularly grace the pages of CBB. Take a look at these famous pops sharing special moments with their little ladies!
Want to see more celeb fathers? Check our our gallery of Rock Star Dads! And for last-minute gift ideas (under $40!), be sure to check out our Father's Day Fashion & Gear. Enjoy your Father's Day!