CBB Exclusive: Mark Consuelos' Father's Day Road Trip!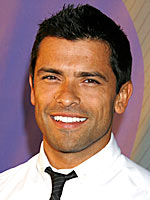 Jeffrey Mayer/Wireimage
Talk about family togetherness: For Father's Day, Mark Consuelos, wife Kelly Ripa and their children — Michael, 12, Lola, 8 and Joaquin, 6 — are piling into a minivan for a two-week road trip across Arizona and Colorado.
It's just one of the ways the family likes to stay connected, something the former All My Children star is promoting with Lever 2000's new Make Every Touch Count campaign, celebrating family togetherness (and benefiting the Boys & Girls Club of America).
We caught up with the father of three about his "great American minivan vacation," how his daughter hangs with the boys and the wildest road-trip food they've encountered.
Click below to read our interview with Mark!
What are some of the ways in which you and Kelly make sure you're close with your kids?
We have dinner every single night, Monday through Friday, with our children. We sit down around 6 or 6:30 and it's a family dinner — it's time to check in, just to be around each other. The phones are off. And we take a lot of vacations together — this year we're gonna be in a minivan going out to Arizona and Colorado. Two weeks, the five of us, the great American minivan vacation! (laughs)
Whose idea was that?
We did it last year and we absolutely loved it. There's a lot of great things to see here in the United States. Those times spent together with maps and old cups from the diner you went to, those are really important as a family. We found that our kids enjoy those simple adventures we take as a family. I'm driving, my wife's the copilot and we give one kid a choice of what they want to go do. We eat a lot of bad food and sleep in some interesting hotels. We're going to Phoenix, Sedona — do some hiking there, the Grand Canyon and end up in Colorado.
Did you have any funny moments on last year's trip?
We ate rattlesnake in this place outside of Phoenix, we panned for gold.
Did all the kids try it?
Of course they did — if they wanted ice cream at the end of the night, they ate it. (laughs) We went to the Triple M Ranch and you go to this big cafeteria and it's chuck-wagon style. The kids loved it.
Since you're recognizable, how is it traveling on the typical family vacation?
Whenever you're in a minivan, they don't expect to see us in one. People are cool — they know that we're with our kids and everybody really respects that.
So, that's where you'll be for Father's Day. Any special plans?
We'll be on the road. Just a nice day — maybe I'll ask them no bickering or arguing.
How does the age difference between your kids work?
When we had Michael, we didn't have Lola until four years later — we were concerned about that age difference. Michael and Joaquin are really close and Lola is in the middle of everything.
How does Lola do with two brothers?
She's fighting for her attention. She provokes them. (laughs) I guess I would too if I was in the middle of two girls. She's girly but tough — forgive the term, but she's kind of like a broad.
What's the best parenting advice your mother or father gave you?
Don't make the same mistakes we made! Be more patient — I always thought they were very patient.
— Serena Kappes