Graco My Ride 65: The First Convertible Car Seat to Rear-Face to 40 Pounds!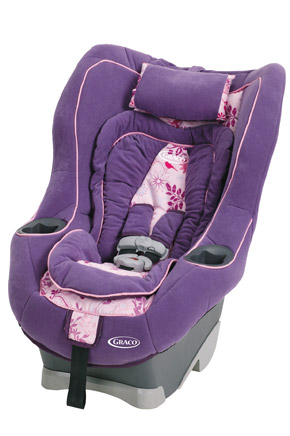 Flair fashion
There's been a trend in the car seat field to increase the weight limit of infant car seats to as much as 32 pounds to extend the length of time you use it. Even if you don't use it outside of the car, manufacturers and the American Academy of Pediatricians (AAP) want your child to rear-face as long as possible. There's also a trend to create toddler car seats with higher weight limits as well so they stay in it as long as possible before switching to a booster seat which is less safe. But what about extending the time a child can rear-face in a convertible seat?
Graco's My Ride 65 ($150), available in store now, is a new convertible car seat that will take your child from newborn to kindergarten or possibly beyond. Taking into consideration the new AAP recommendation that children rear-face until age two instead of one, My Ride 65 allows children to rear-face from 5 to 40 lbs — an all-time high for rear-facing car seats, whether infant or convertible. When the child reaches the weight and height limit, you can turn the seat around and use it forward-facing until your child is 65 lbs. Chances are, your child will be in elementary school when he finally outgrows this seat so theoretically, the My Ride 65 could be the only car seat you'll ever need to buy.
To give you an idea of how old your child might be when he reaches these weight limits, kids in the 50th percentile for weight will typically hit the rear-facing limit of 40 lbs at age five and hit the forward-facing limit at age nine. If you are successful at convincing your child to stay in the car seat, you'll never need to buy a booster seat.
According to car-safety.org, rear-facing is safest because it spreads "frontal crash forces over the whole area of a baby's back, head and neck; they also prevent the head from snapping relative to the body in a frontal crash." Additionally, the risk of broken legs due to bent knees or feet that touch the car's seat is much lower than the risk of fatal injury. Crashtest.com cites these statistics for occurrence of crashes: frontal and frontal offset represent 72% of severe crashes, side impact 24% and rear and rear offset only account for 4%.
Other great features of the My Ride 65 include:
its side impact protection (SIP) tested for "occupant retention by the harness system" and constructed with EPS energy-absorbing foam
in addition to the mandatory National Highway Traffic Safety Administration (NHTSA) sticker on the base of the seat, there's also labels on the side of the seat in an easier to read location that reminds you of the weight and height limits for each set-up
there are two LATCH belts (one for rear- and one for forward-facing) so you don't need to re-thread them when it's time to turn the seat around
when the seat rear-faces, there's a deep recline so baby's head doesn't flop forward
the 5-point harness adjusts from the front, something inexpensive car seats typically don't include
infants will be super comfy with the infant insert, while bigger kids will like the toddler headrest and two built-in cup holders
Obviously not as important to safety but still important to parents: the My Ride 65 comes in nine sophisticated fashions. There are three extremely feminine fashions, while the other seven are neutral or lean towards masculine. To see all of the fashions side by side, visit Graco's flickr page. Aside from the different fashions, all of the seats are exactly the same.
Flair (pictured above, pink/purple paisley, lavender and taupe solid) and Bartlett (aqua, taupe and pale blue solid) – available exclusively at Target and target.com
Spiral (chocolate same-color spirals, beige and dark taupe) and Sonata (pink and chocolate scribble dots, chocolate and pinks solid) – available exclusively at Babies R Us and babiesrus.com
Alma (pink floral, pink and purple solid) and Edgemont Dots (grey palette with same-color dots) – available exclusively at Walmart and walmart.com
Streamer (chocolate and chartreuse pattern, chocolate and chartreuse solid) and Patina Bloom (pink butterflies, pinks and chocolate solid) – available exclusively at Baby Depot, independent retailers and online stores
Chandler (grey same-color design) – available exclusively at independent retailers and online stores
If you prefer the convenience of an infant car seat, of note is that Graco's SnugRide 32 not only allows infants to rear-face till they reach 32 lbs, it's also a larger car seat which means it has a higher height limit than other higher limit infant car seats.
— Danielle