Caught Caring: InStyleBelly.com, Autism Speaks and Days of Our Lives
During her pregnancy with Megan Hope, 5 months, Alison Sweeney sported one of the most fashionable maternity wardrobes around as an actress on NBC's Days of Our Lives. Now — thanks to a partnership with InStyleBelly.com — expectant moms everywhere can channel their inner Sami Brady and do a good deed in the process. DoOL has donated several items to the online designer maternity consignment boutique which were worn on the show, and proceeds from their sale will benefit Autism Speaks.
The pre-loved and gently-used items available include maternity wear from some of the trendiest designers around, including Diane von Furstenberg, 7 For All Mankind and BCBG according to InStyleBelly.com founder (and longtime DoOL devotee!) Krista Karo. "If you're a fan of the show or just want to buy some great maternity clothing and help raise money for a good cause, this is a great opportunity," she adds. For its part, DoOL is equally excited about the partnership. Spokesperson Sarah Griffin notes that "the show's fan base is made up of a diverse audience, including expecting moms."
"We believe our viewers and InStyleBelly's customers are alike in many ways. They are savvy to today's fashion trends and at the same time, price-conscious of their budgets."
Krista formed InStyleBelly.com earlier this year to offer expectant moms a more economical way to wear the brands they love; It also provides those same moms an opportunity to earn extra cash by consigning their maternity duds after they've given birth.
DoOL and Autism Speaks are hardly strangers. The organization — which increases awareness, funds research and acts as an advocate for individuals with autism as well as their families — has worked closely with DoOL head writer Dena Higley on the story of Theo Carver, a young character diagnosed with the disorder. With autism affecting 1 in every 150 children, it is a plot line that undoubtedly resonates with viewers everywhere.
To view the celebrity maternity items which are available, click here; For more information on Autism Speaks, click here.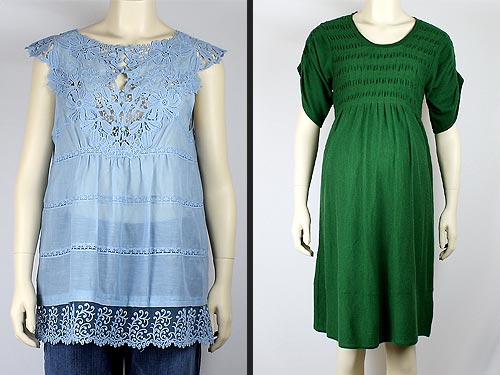 BCBG Woven Top; Diane Von Furstenberg Knit Sweater Dress
— Missy