Tiger Woods Doubles His Fun With Daughter and Son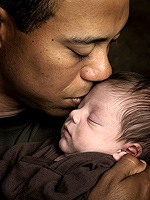 Dom Furore/Woods Family via Getty Images
As he looks forward to Father's Day this weekend, Tiger Woods will no doubt feel the loss of his own dad Earl Woods, whom he lost three years ago after a lengthy battle with prostate cancer. The 33-year-old golf great has much to celebrate, however: His second Father's Day with daughter Sam Alexis, turning two tomorrow, and his first ever with new son Charlie Axel, 4 months. "I couldn't be happier than where I am right now," he raves.
"Having the two kids is just unbelievable, how much fun we are all having, except the sleepless nights — that can be a little tough at times. But other than that it's just been incredible."
Tiger and wife Elin are having such a blast, in fact, they've served as the unofficial spokescouple for parenthood to Tiger's good friend Roger Federer and his wife Mirka, who expect a baby boy this summer. The tennis superstar reached out to Tiger when he and Mirka were discussing the possibility of starting a family, and while Tiger says he doubts his words served as "the turning point," they certainly didn't dissuade the Federers, either! Although the constant travel involved with being a professional athlete can be tough, Tiger says there are also advantages.
"I think my kids will certainly experience something that I didn't experience, even in my generation, with accessibility to these places. And I think it's going to be very fun for them and educational for both of them."
Tiger reveals that Sam has inherited his stubborn streak, and is already asserting her independence on the course. "She doesn't like for me to help her hold a golf club," Tiger says. "She'll figure it out herself." Spending time with his daughter during her infancy as he rehabbed from knee surgery was instrumental to his recovery. "The best thing in the world was actually to watch her grow and, you know, each and every day have fun with that and teach her different things," he says. "I really enjoy that type of life." From the sound of things, he'll be enjoying himself for years to come. Tiger adds,
"I love to teach, and to be able to teach Sam, and as soon as I can, start teaching Charlie a few things, that's fun. I live to be able to do that."
Source: The New York Times