The Name Game: Mad About Max!
It's hard to find a hotter name for boys than Max, and for good reason. Meaning 'greatest' in its traditional Latin form of Maximus, nameberry.com co-developer Pamela Redmond Satran says that Max is "unpretentious and friendly but also sounds cool."
Maybe that's why celebrity moms and dads have been choosing the moniker in droves. Charlie Sheen, Gilbert Gottfried, Christina Aguilera, Lance Armstrong, Jennifer Lopez and Marc Anthony, Ryan and Trista Sutter and more have all been mad about various forms of Max in recent years, and they're just the latest celebrity generation to lend it their stamp of approval. Seasoned stars like Dustin Hoffman, Henry Winkler, Steven Spielberg, Nora Ephron and Carl Bernstein all opted for Max with their (now grown) children.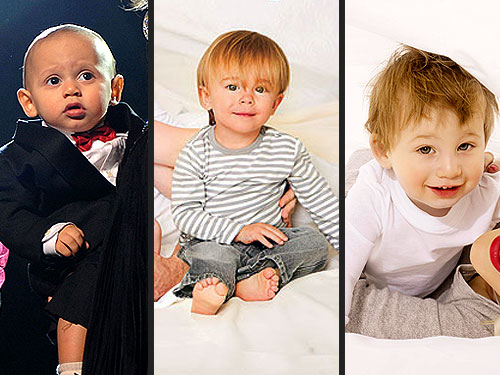 Kevin Mazur/Wireimage; Life & Style; Andrew Macpherson for PEOPLE — Maximilian Muñiz, Maxwell Sutter, Max Bratman
It is a name that has stood the test of time in more ways than one! Pamela explains,
"Saint Maximus was a 7th century monk and theologian from Constantinople. Maximilian grew out of Maximus and has been born by saints, kings and emperors."
While the name Maxwell — as chosen by Bachelorette alums the Sutters and cyclist Lance Armstrong — has "a somewhat different root," according to Pamela, it does have a similar meaning. An old Scottish name standing for 'Mack's stream," Maxwell derives from the Scandinavian 'Magnus' — a name selected by both Will Ferrell and Kristy Swanson — which also means "great." All forms of the name are on the rise. According to nameberry.com, in 2008 Max ranked #126, Maxwell ranked #134, Maximus ranked #258 and Maximilian ranked #300. Adds Pamela,
"Taken all together, there were nearly 9000 boys in the US given the name last year, which puts it in the Top 50, right between Jordan and Robert – much more popular than it seems!"
That popularity comes with a price, however. Pamela points out that although there are many different forms of the name for parents to choose from, "there may be more other little boys named Max than they expected out there."
In addition to her work with nameberry.com, Pamela has co-authored ten baby-naming books with Linda Rosenkrantz. Their newest title, Beyond Ava & Aiden, will become available in a few weeks.
Do you have a Max or variation on the name? Why did you choose it?
— Missy