Sun Smarties Family Beach Cabana Tent: Easily Well Shaded
One of the best things about summer is going to the beach. But if you have tiny tots a day of surf and sand usually means a ton of stress, especially when it comes to sun protection. For our first beach outing of the season I tried One Step Ahead's Sun Smarties Family Beach Cabana Tent ($80) in hopes of making things a bit easier. And it definitely did the trick.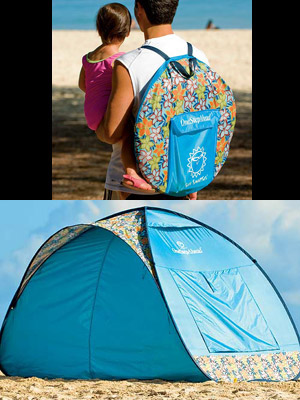 Folded and with zippered entryway
The large (86″L x 49″D x 47"H) tent gives UPF 50+ protection, has two zippered entryways and side mesh panels with roll-down sides for privacy. What I really love is how small the tent and carry bag is before assembly. It's extremely lightweight and easy to carry on your back or by hand. The pop-up tent literally springs up in seconds — much to the delight of my little ones — and includes stakes perfect for a lakeside excursion and pockets to fill with sand to keep the tent upright on the sandy beach.
Although it held up beautifully, even on a breezy day, it will definitely topple when pushed. There's no floor to the tent so bring your own towels and blankets. At first it was a feature that I found lacking, but I quickly realized it makes a great shady cover on wet sand for building sand castles.
Folding the tent took a bit more work and the instructions included weren't too helpful. Luckily I tested it out at home first. After failing a few times I watched a short video on the One Step Ahead website. I was then able to fold it down in less than a minute on my first try.
With its large size and sturdy construction, I definitely think we'll be using this for years to come. And it's definitely a winner if your family is at the beach several times a year.

— Sarah S.