Cole Hamels and Wife Expecting First Child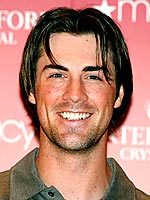 Tom Walck/PR Photos
Former World Series MVP Cole Hamels is poised for fatherhood, just in time for the playoffs! Comcast SportsNet reveals that the 25-year-old Philadelphia Phillies pitcher is expecting his first child with wife Heidi Strobel at the end of the summer. The couple were scheduled to learn the sex of their baby-on-the-way on Monday.
In December Cole and Heidi had planned to visit Ethiopia with the hopes of completing an international adoption, but they will now delay their trip until at least April 2010.
Cole and Heidi, a Survivor: The Amazon alum, were married in 2006.
Source: Comcast SportsNet