CBB Chats With Ana Ortiz!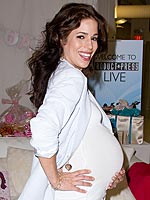 Amanda Schwab/Startraks
She's in the home stretch! After what seems like a lengthy pregnancy — she announced in January! — Ugly Betty actress Ana Ortiz is due to welcome a baby girl on June 25th.
We had the chance to speak to Ana yesterday at the Product-N-Press event in New York City, where the actress was on hand to take a look at the summer's hottest baby gear. Read below for Ana's thoughts on growing up in NYC, if she plans to have her baby on set with her and how she'll acclimate her pets to her child.

CBB: Are you ready to have the baby? Or are you still attached to your pregnancy?
Ana Ortiz: No I'm ready!
How do you feel about going back to work so soon after having your child?
Honestly I'm nervous about it. But I'm also really excited. I've gotten so much support on that set. Everybody's so excited about the baby — I don't even think I'll be able to see the kid when I'm on set because everyone will be holding her!
I'm just nervous about the logistics. I have a friend who's an actress who said she'd be on set, and everything would be fine, then suddenly her boobs would just fill up with milk halfway through her scene, and she would just have to go! So there's the logistics of that. But my mom's going to be on set, and like I said, I have so much support and love from the cast and crew. It'll be fun.
Do people bring their babies to set?
No it's funny, because Rebecca [Romijn] got pregnant, and then she left and went back to Los Angeles. So we didn't get to see the babies on set — just when we went to visit her.
I think mine will be the first real, legit "set baby." It's exciting.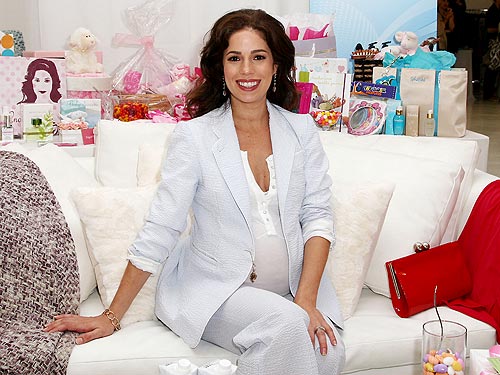 Amanda Schwab/Startraks
Are you ready to be a "New York mom"?
I was a New York kid! I was born and raised in the city. My mom handled it, and she's genius. I think New York is a really wonderful place to raise a child. There's so much available, and so much diversity and culture, lots of things to see and do. My whole family is here.
The most important thing is to find the balance between city and nature. I have that "hippie quality" — my husband is a super-hippie Los Angeles boy — so we'll have to make time to go to Puerto Rico, and upstate New York, and be sure we get to do outdoorsy stuff like that.
Do you have any products for your New York baby?
I have two strollers: A Quinny and an Orbit. The Orbit is super-portable, really easy to get around the city, and the Quinny is like this four-wheel drive, take her over the Brooklyn Bridge stroller. And for me, I've been really lucky to get all of this yummy organic clothing, and my nursery is all organic and eco-friendly.
My daughter's just going to be really hip! My goal is to be as eco-conscious as possible: There's so much out there for parents who want to do that. I plan to keep her eco-friendly as she gets older. I think we all sort of have to do it. I'm lucky enough to be able to do it, so we just have to drive the market toward it so it becomes more possible to make and more accessible to consumers. People will realize how much easier and better it is to be local and organic. But it's just not available to everyone right now.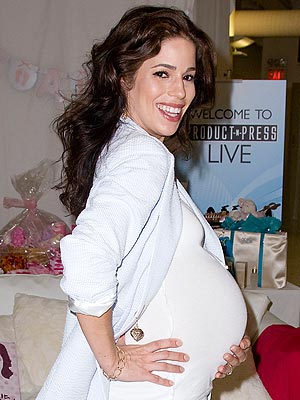 Amanda Schwab/Startraks
Has your mom given you great advice about raising your child?
She's given me a ton of advice. She's the best mom I know, she really is. So between her and [Ugly Betty costar] Vanessa Williams, I'm set!
My mother's a mom; she's a regular working mom. And here's Vanessa, who's in the same boat, but in the business, and has these four amazing kids. I'm constantly asking her how she keeps the balance, how she raises these kids and how they aren't jerks! They're fabulous.
I've really been picking her brain about that: Maintaining that balance with your kids and making sure they don't become spoiled terrors. So I think between Vanessa and my mother I've got it covered.
Do you have any pets? Have you prepared them for your daughter's arrival?
I have a rescue dog named Fideo, which means "noodle" in Spanish, and a cat named Hutch.
I'm definitely ready to get them acclimated to the baby. It's funny because your pets are your babies, and everyone's telling me, "Oh boy, they're in for a rude awakening!"
I'm really worried about my dog — I just don't want him to be mad. But I'm definitely ready for the transition — I'm always surrounded by my pets. They're a huge part of my life.
— Kate