Peter Facinelli Finds the World is Fit For a Fivesome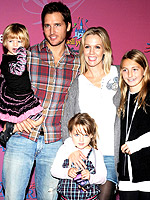 Axelle Woussen/Bauer Griffin
The decision to add another child in the mix is a big step, and while actors Peter Facinelli and Jennie Garth have spaced their brood out, the father of three admits the large age gap has its share of disadvantages. "They're all like 4 or 5 years apart, so every time they were out of diapers I was like, 'Oh, I think I can do this again,' and you forget that it's so much work," he tells Ryan Seacrest.
To that end, although Peter may be moving past the diaper phase, the age differences between his daughters isn't getting much easier! "Now they're all at an age where they all want to do different things, so you're constantly being split up — your attention is being split," he notes. While the 35-year-old jokes that a dedicated father handbook would be most useful, it has been good, old-fashioned experience that has taught him two kids are easier than three!
"I'd say [with] two you're going man-to-man, so you have your wife with you and it's easy. Now [with three kids] we're playing zone."
As Ryan suggests the theory that a fourth child could create a sense of balance among the siblings, allowing them to depend more on one another and less on their parents, Peter laughs that his own mindset leads him to believe the world is designed for a fivesome. "That's what I tell my wife," he says.
"It's party of five. You go into a restaurant, there's five chairs at a table. You go to a hotel, you can fit five people in the [room]; If you get one more person, you have to get two hotel rooms. You get into a car, it seats five, otherwise you gotta get a Yukon bus!"
Peter and Jennie are parents to daughters Luca Bella, 12 this month, Lola Ray, 6 ½, and Fiona Eve, 2 ½.
Source: On-Air with Ryan Seacrest
— Anya