Melissa Joan Hart Loves Showing Off Her Boys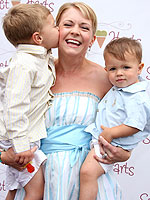 Jen Lowery/Startraks
In a new interview with MomLogic, Melissa Joan Hart offers her observations on the growing public fascination with the children of celebrities. Joking that "babies are the new black," the 33-year-old actress goes on to note that "for a while it was cool to carry your dog on the red carpet, and now it's cool to bring your kid." If she has any regrets about her own two sons — Mason, 3, and Braydon, 15 months — becoming public figures, it doesn't show.
"I never knew who Paul Newman's kids are but we all know who Suri Cruise is. I don't know if the media needs more to write about, but I love sharing my kids with the world. I love showing them off a little!"
Life is moving fast for the family of four, which includes Melissa's husband Mark Wilkerson. Between her acting career, her recent 42 lb.weightloss and her new candy store SweetHarts, Melissa is a busy working mom. Fortunately, the boys seem no worse the wear — but the same can't always be said for their mom! "They're very happy," she shares. "They're very laid-back and active … and amazing!" But "the changes happen day-to-day," Melissa notes. "If I'm working and I get a call, I feel like "Ah, man!" Literally I miss a day and I miss so much. It's amazing how quickly it happens." Melissa relies on a nanny to fill in where needed, but she has "ground rules" that are strictly adhered to.
"My one thing is, don't let a nanny raise the child…Our nanny has become a good friend. It's really hard sometimes with the boundaries, exactly because I want to treat her like a friend, but that's also why there are ground rules. We've only had one nanny, and she's been with us since the second son was born."
Click below for Melissa's thoughts on a third child, and the importance of multitasking.
Even with the extra set of hands, Melissa admits that sometimes "the hardest part of it all is staying focused."
"Let's say you're at the park with your kid and your friend's kid. You lose focus and you don't see your kid for a second and you panic! You think 'Ohmigod, I'm not a good mom.'"
To that end, Melissa has learned that the key to motherhood is learning how to multitask and she has some creative solutions for everyday problems. "My kids love to be in my office with me so I keep a little basket of toys in there," she shares. "They love to type on my computer and talk on the phone, so I got them an unplugged keyboard and old phone, put them on the ground, and let them bang away on them." With so much on her plate, Melissa is still ready for more — kids, that is! Having grown up in a large family, she says three or four kids sounds ideal.
"I adore my boys to pieces! And if that's all God grants me, I'm fine. But I know myself well enough to know that I'm going to want another baby. It's not necessarily that I want girls. It's because I just know I want more babies."
Source: MomLogic
— Missy