Katie Holmes and Suri Cruise Do Matchy-Matchy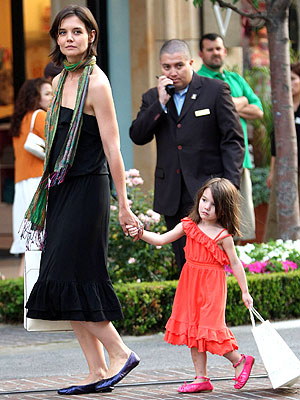 Owen Beiny/Agent 47/WENN
The Mommy and Me matchy-matchy thing has a tendency to go over-the-top if done too obviously, but of course, Katie Holmes and Suri Cruise get it right. While shopping at The Grove shopping center in Los Angeles on June 1st, along with comfy jersey dresses, the always-chic mom and daughter wore coordinating flats from the French company, Maloles.
Katie sported the Georges ballerina flat ($295-317) while Suri wore the mini version, the Petite Zoe ($128) from the Petite Maloles line. (Katie was later photographed wearing the shoes leaving a Hollywood dance studio.)
The unique style of Suri's Petite Zoes was created when designer Maloles Miracosta-Antignac took the pleated effect from the sole of the traditional ballet slipper and moved it to the top, adding a ribbon closure and an ankle strap. The effect is refreshing and sophisticated.
The line was launched in 2004 with the signature ballerina flats and has since expanded to include a heels, boots, clutches and the children's line.
Good luck finding Katie's style though — we were unable to find them online!
— Danielle
CBB Deal: Save 20% on any Petite Maloles style with coupon code CBBSURI at 3monkeysboutique.com (expires 7/31/09).