Carnie Wilson Welcomes Daughter Luciana Bella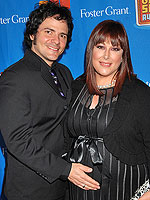 Celebrity Photo
Welcome Luciana Bella Bonfiglio! Carnie Wilson delivered her and husband Rob Bonfiglio's second daughter at 5:07 p.m. on Friday, June 12th in Los Angeles, Calif. Weighing in at 6 lbs., 5 oz and 19 inches long, baby Luciana joins big sister Lola Sofia, 4.
"Oh my God, Lola is over the moon about this," Carnie said recently. "She says, 'I love you, Luci,' and kisses my tummy. I'm going to wrap a doll and have it at the hospital and give it to Lola from Luci. We're ecstatic."
After a reported c-section, The Newlywed Game host, 41, will go home on Tuesday. The couple announced the pregnancy in November, followed by the sex of the baby and planned name in January.
Source: Life & Style