Maya Rudolph Explains Theory Behind Belly Rubs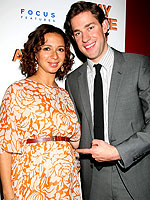 Dave Allocca/Startraks
Playing an expectant mom in Away We Go came naturally to Maya Rudolph, a soon-to-be mom-of-two in real life. It helped, however, that the film is directed by Sam Mendes, a celebrity dad in his own right. Maya credits the film with capturing the awkward moments of pregnancy "so well," especially unsolicited belly rubs and observations from strangers. "It's about people's feeling of wanting to be connected," she notes.
"It just doesn't come out the way it's supposed to: 'Oh, God, you're huge.' I think the last person who wants to hear they're huge is a pregnant lady."
Maya tells USA Today that — like her character in the film — she "used to get the hands" on her belly while pregnant with daughter Pearl Bailey, 3 ½. What's more, such oddities "don't go away when you have a baby." Living in Los Angeles, the 36-year-old actress says she's encountered more than her fair share of "crunchy judge-y" moms who are all too happy to make their opinions known. "[They'll ask], 'What kind of diapers are you using? You're not using gDiapers?" she says.
Maya's second child with partner Paul Thomas Anderson, another delivery surprise, is due in early November. Away We Go is in theaters now.
Source: USA Today
— Missy