Madonna Wins Adoption Appeal in Malawi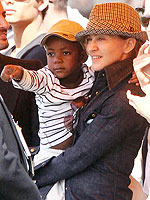 Jackson Lee/Splash News Online
Madonna's family has just gotten bigger, now that the pop star has legally won the right to adopt a daughter from Malawi.
"I am extremely grateful for the Supreme Court's ruling on my application to adopt Mercy James. I am ecstatic … My family and I look forward to sharing our lives with her," Madonna said in a statement through her spokesperson Friday.
Preparations are already underway to bring Chifundo 'Mercy' James, 3, from the African country to America private jet, after the singer stayed up throughout the night hoping for a courtroom victory.
"It's the early hours in New York now but my client has been awake all night waiting for this," Madonna's Malawi lawyer, Alan Chinula, tells PEOPLE. The attorney spoke to his client as soon as the ruling was made official, at around 2 a.m. her time Friday. "She was ecstatic when I broke the news to her. She said, 'Thank heavens.' "
Chinula says he is "now awaiting instructions from New York to start preparing travel arrangements for Mercy. I have to be there for her passports and everything."
It is likely to take three to five days before the paperwork is ready and the child is able to leave and join fellow adoptee David, also 3. He was formally adopted in 2008 after some controversy and legal challenges.
Madonna, 50, is not expected to fly out to Africa from New York, but Philippe Van Der Bossche, director of her Raising Malawi charity, has been asked to arrange a private jet as soon as possible.
It is believed that Mercy may, in the short term, be moved to the Kumbali lodge where Madonna stays when she is Malawi.
The ruling – by Malawi's highest court – was made after a lower court had turned down Madonna's first bid to adopt Mercy in April. That court had said the singer had not spent enough time in Malawi.
Source: PEOPLE
— Raphael Tenthani
Click below for the original post.
Originally posted June 10th: Madonna will win her right to adopt an orphaned girl from Malawi after all, the pop star has been told, according to a British newspaper report on Tuesday.
Two appeal judge have said they would allow her appeal, while a third is set to agree, reports the Sun.
Madonna first met the child — Mercy James — at the Kondanani Children's Village in the town of Bvumbwe during a first visit to Malawi in October 2006. It was at that time that she also met her first adopted child, David, now 3 ½. Mercy has a father who is alive but was living at the village following the death of her teenaged mother.
On Wednesday it was said the singer, 50, is "ecstatic — over the moon" at the prospect of a Malawian sister for David, whom Madonna adopted (not without controversy) in May 2008. The singer also has a son, Rocco, 8 ½, with ex-husband Guy Ritchie, and a daughter Lourdes, 12.
Reps for Madonna say there has been "no decision yet" on the case. She is likely to find out the official result early next week.
Local officials in Malawi don't believe that Madonna will fly out to pick up Mercy James if she is granted the adoption as expected. It is believed that, instead, a private plane will be sent to pick up the child.
Source: PEOPLE
— Simon Perry