For the Wine-Lover Dad: Ravi Wine-Chiller
Men can be so difficult to shop for which makes Father's Day especially challenging. Besides the cute projects your kids will undoubtedly bring home from school, we've pulled together some great options for you to get for dear old Dad — yours or your children's! If you miss one, visit our Father's Day Gift Guide category.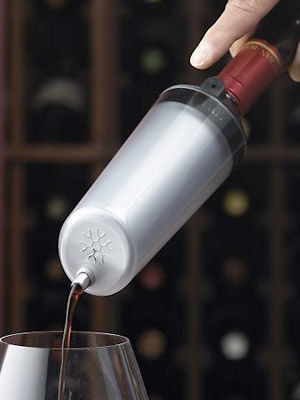 Can't afford a wine-cellar or wine refrigerator? The Ravi ($40) chills red wine instantly to a perfect temperature as you pour, revealing the fruit that too-warm temperatures mask or even damage. (That's right, I said red wine. Think about it — wines are traditionally stored in cellars where the temperature is slightly cooler than the rest of a home.) Store the Ravi in the freezer for at least six hours — you can store it in there when you're not using it — and when it's time to imbibe, insert into the bottle and as you pour, the wine passes through the Ravi's frozen steel chamber into your glass, chilling it to a perfect 54 and 64 degrees Fahrenheit. You can also use the Ravi with white wine but it won't chill it as much as it's supposed to unless it's already slightly cool.
A finger tip control inlet lets you adjust the serving temperature which is important for subsequent pours as the Ravi warms as it's being used. It works for vodka too but don't use it with carbonate beverages because it will ruin the device.
— Danielle