For the Couch Surfer Dad: Brookstone ePad Laptop Desk
Men can be so difficult to shop for which makes Father's Day especially challenging. Besides the cute projects your kids will undoubtedly bring home from school, we've pulled together some great options for you to get for dear old Dad — yours or your children's! If you miss one, visit our Father's Day Gift Guide category.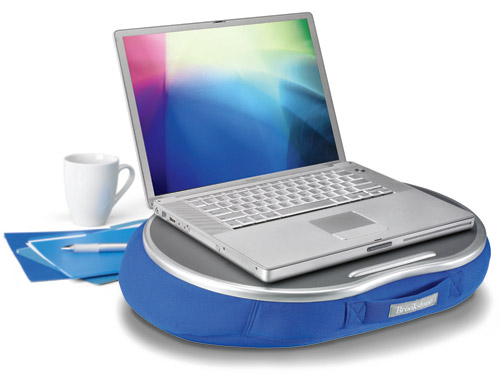 Whether Dad lacks a desk or just prefers to go online on the couch, his favorite chair or (gasp!) bed, the ePad Laptop Desk ($40) can transform any desk-less environment into a comfy place to surf the web or watch DVDs. The sturdy surface keeps his laptop computer stable and the padding keeps the heat of the computer from burning his legs (they get REALLY hot). The pad (more of a pillow) is thicker than most lapdesks I've seen which means it also brings the computer a little closer to you and less hunching. The one downside is that there is little room for anything else on the desk, like a mouse. I appreciated the angle of the pillow and little stopper bar which angled my laptop but didn't let it slide onto me like other desks. Also, the surface of the desk is textured, which probably helps it from sliding around.
For a limited time, you'll get the e-pad Laptop Sleeve in black for only $10 with the purchase of the e-Pad Laptop Desk.
— Danielle